Whether you're having a picnic, a backyard cookout or a family reunion, a salad is always a good idea to have on the menu, for three reasons: It's easy to make, most recipes can be made in advance, and it's great for serving a crowd of hungry family members and friends. And those hamburgers, hot dogs, steaks and other grilled main dishes need a great side to round out the offerings.
If you're looking for that perfect picnic salad recipe, Food Network has 11 dishes — including potato salad, pasta salad and green bean salad — that are sure to be winners this Memorial Day weekend. For more ideas for summer entertaining, check out Food Network's Grilling Central.
Corn and Pasta Salad With Homemade Ranch Dressing — Take your average pasta salad to the next level with this recipe, which features corn, grape tomatoes and arugula. A made-from-scratch ranch dressing adds a nice tang and is a good alternative to mayonnaise dressing.
Red, White and Blue Potato Salad (pictured above) — Even potato salads can get patriotic. This one gets its colors from piquillo peppers, red-skinned potatoes and blue-fleshed potatoes. The dressing is a simple Dijon vinaigrette.
Bow Tie Pasta Salad — Jamie Deen's bow tie pasta salad features edamame, carrots, broccoli, grape tomatoes and a creamy dressing for a play in textures. The best part is, you can prepare it in advance and keep it in the fridge until the party.
Mediterranean Farro Salad — This salad recipe from Giada De Laurentiis includes nutty farro, olives, green beans, red pepper and Parmesan cheese for a healthy and flavorful option.
Apple-Raisin Coleslaw — Sunny Anderson's recipe for coleslaw includes tart Granny Smith apples and sweet golden raisins for a unique twist on the original. Apple cider vinegar gives it a nice punch of flavor.
Tarragon Potato Salad — Ina Garten reinvents the classic potato salad with the herbs tarragon and dill to create a picnic side dish with bright flavor. Try it with any combination of leafy herbs such as cilantro, parsley or chervil.
Grilled Vegetable Salad With Feta and Mint — Grilled vegetables are turned into a wonderful summery side salad with this recipe from Ellie Krieger. Grill up red pepper, eggplant, onion and zucchini, then combine with a simple vinaigrette, fresh grape tomatoes, mint and feta before serving.
Green Bean and Bacon Salad — This isn't your average green bean salad. Tyler Florence's recipe gets topped with bacon! There are also walnuts for crunch and a mustard-lemon vinaigrette that adds sharp flavor.
Muffaletta Tortellini Salad — The muffaletta sandwich gets reinvented as a salad with this recipe, which includes olives, mozzarella, pickled vegetables, artichoke hearts and grape tomatoes.
Tomato, Onion and Cucumber Salad — This salad from Rachael Ray couldn't be simpler: Dress thin slices of tomato, red onion and cucumber with red wine vinegar, olive oil, salt and pepper. The salad tastes even better once it's marinated for at least 20 minutes, but to keep it fresh, dress just before serving.
For more picnic salad recipes, check out Food Network's summer side dish recipes and summer cookout salad recipes in Grilling Central.
More posts from Joseph Erdos.
Similar Posts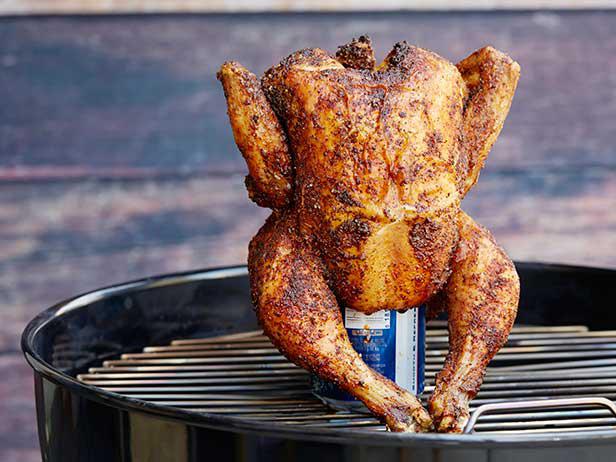 This clever grilling technique is easy enough to perfect even on your first try making it....