We dig it on our pizza, require it on our burgers and have even been known to melt it on our fries. It's cheese, the well-loved ingredient that gets a whole lot richer when things are heated up. In these side dishes, cheese isn't simply an afterthought to be dashed on top. It's an integral part, giving things a creamy, rich edge in all the right ways. Tune into our roster of cheesy, decadent sides — each recipe is complete with a good showing of spring vegetables.
Due to Arborio rice's natural starch content, risotto on its own has a creamy quality. But, according to Ina Garten, you simply can't have risotto without the Parmesan. Her veggie-packed Spring Green Risotto comes together with freshly grated Parm and smooth, rich mascarpone. In the spirit of spring, Ellie Krieger's Garden Risotto has a garden variety, with peas, asparagus and baby spinach.
Think of Food Network Magazine's Spring Shells and Cheese (pictured above) as a grown-up mac and cheese — with its mature fix of veggies, too. Zucchini gives it a nice crunch, while spinach slides in for some good green. Or unload a batch of spring peas into this creamy Four Cheese Pasta With Peas and Ham by Food Network Magazine.
For a cheesy side that still goes heavy on the veggies, Ina's Spinach Gratin transforms the leafy green into a side that is smooth and creamy, but with that vital crusty surface.
Food Network Magazine's French Onions are loaded with Gruyere, and they would go idyllically beside a seared steak. Or try Ina's Parmesan Roasted Asparagus, which douses the tender spears in the sharp Italian cheese.
When you're squaring away tonight's dinner lineup, just know that these cheesy, decadent spring sides are sure crowd-pleasers.
More cheesy spring side recipes from friends and family:
Jeanette's Healthy Living: Fresh Tomato Burrata Cheese Pesto Dip
Napa Farmhouse 1885: Roasted Asparagus With Balsamic Vinegar and Parmigiano-Reggiano Cheese
Red or Green: Grilled Vegetable and Cheese Quesadillas
Feed Me Phoebe: Skillet Lasagna With Zucchini, Arugula and Fontina Cheese
Cooking With Elise: Cheesy Chicken Quesadillas
Weelicious: Cheesy Corn on the Cob
Domesticate Me: Seared Scallops With Spring Vegetables
Devour: Cheese-Filled Summer Side Dishes
Made by Michelle: Broccoli Cheese "Meatballs"
The Heritage Cook: Creamy and Cheesy Potato Casserole (Gluten-Free)
Dishin & Dishes: Baked Squash Casserole
The Sensitive Epicure: Frico: Parmesan Cheese Crackers
Virtually Homemade: Easy Cheesy Enchilada (Gluten-Free)
More posts from Allison Milam.
Similar Posts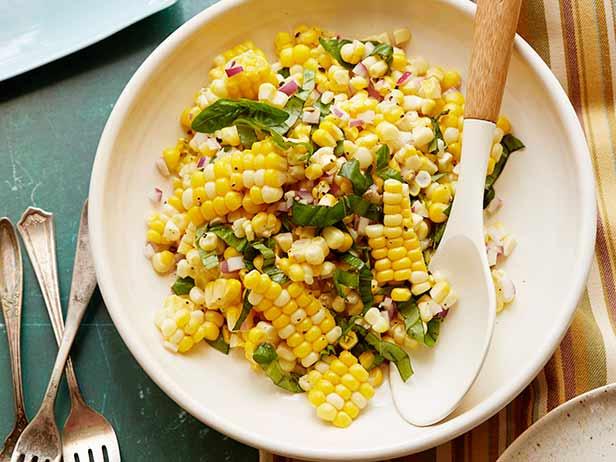 Think beyond the usual presentation of corn with butter and salt....