If you're looking for a lamb burger unlike any other this grilling season, with a simplicity that is approachable for any home cook with a gourmet look and with flavor that will keep folks coming back for more, then look no further. Chef and butcher Adam Sappington of The Country Cat Dinner House and Bar in Portland, Ore., is showing FN Dish readers how to spice up their burger recipes with different meats and out-of-the-ordinary toppings, like jam.
Try lamb: Making sure that lamb is the star of this burger, Adam seasons the patty using only salt and pepper. Once grilled to perfection thanks to his step-by-step instructions below, the patty is laid on a buttered bun piled high with creamy Havarti cheese, peppery arugula and Adam's showstopping Smoked Tomato and Mint Jam — lamb and mint, a match made in heaven. The best part of this jam, besides the flavor, of course, is how home cook-friendly it is. It starts with a can of fire-roasted tomatoes, then all of the ingredients, ginger, paprika, brown and white sugar, salt and pepper, are added to a heavy-bottomed saucepan and cooked to the desired consistency. Once everything is cooked, fresh mint is folded in; the jam can be stored in the refrigerator for up to one week.
Grilled American Lamb Burger With Smoked Tomato and Mint Jam, Havarti Cheese and Arugula
Serves 4
2 pounds ground American lamb
4 soft white hamburger buns
4 tablespoons unsalted butter, softened
4 slices Havarti cheese
4 teaspoons aioli or garlic mayonnaise
3 oz. arugula
Prepare the lamb burgers:
Season the lamb with salt and pepper and form the meat into four 8 oz. patties. This can be done up to 1 day in advance.
On a charcoal grill, make a medium-hot coal base, using about 18 briquettes. Make sure all the coals are white-hot and are spread evenly on the cooking base. Place grill grate above the coals and move the coal base as close as you can to the grill grate. Allow 5 minutes of intense heat on the grates. Scrape the grates clean with a grill brush and move coal base about 4 inches away from the grill grates. Now you are ready to grill the burgers.
Place the meat directly onto the now-hot and clean grates. For medium-rare burgers, cook on one side for 4 minutes, then flip the burgers over using a metal spatula and continue to cook for another 4 minutes. The internal temperature should be about 145 degrees F. Using a fork, insert the prongs into the middle of the burger and leave it inserted for 5 seconds. Remove the fork and place the prongs onto the palm of your hand. If the prongs are cool to the touch, your burger is rare. If the prongs are warm, it's medium-rare, 145 degrees F; if it's a little hotter, then it's medium, 160 degrees F. If it's downright hot, then it's well-done, 170 degrees F. Cook your burger how you want it.
Place a slice of the Havarti cheese onto the burger about 2 minutes before you remove it from the grill. While the cheese is melting, use a butter knife to spread the butter onto the buns, and place them onto the grill. Toast the buns until they are golden brown.
On 4 plates, place the bottom part of each bun. Spread about a tablespoon of the tomato jam (recipe below) onto the bun, then add the arugula. Next, place the finished burger onto the bun. Spread the aioli onto the top half of each bun and place it on top of the burger. Let burger rest for about 3 minutes before taking your first well-deserved bite.
Tomato Jam
1 (12 oz.) can fire-roasted tomatoes
1 teaspoon ground ginger
1 teaspoon paprika
2 tablespoons brown sugar
2 tablespoons white sugar
1 tablespoon salt
1 tablespoon ground black pepper
2 tablespoons fresh mint leaves, julienned
Prepare the jam:
In a medium-sized, heavy-bottomed saucepan, combine all ingredients for the jam and place over medium-low heat. As the jam begins to simmer, stir with a flat-bottomed wooden spoon every 3 or 4 minutes. As the jam begins to thicken, it has a tendency to scorch if you don't watch it. Cook jam for about 30-40 minutes, or until it has a thick, viscous consistency and can coat the back of a spoon. Transfer jam to a non-reactive bowl and fold in the mint. Set aside. This can be made up to 1 week in advance.
(Photo courtesy of Jannie Huang)
More posts from FN Dish Editor.
Similar Posts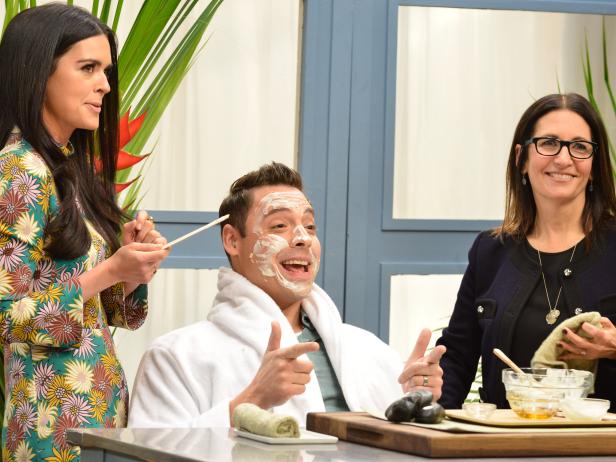 You don't have to travel somewhere exotic to make the most of your time off....