Think about it — your oven has done a lot for you this season. It's seen pies and casseroles, pot roasts and big birds. It's gotten you through holidays and frosty nights. Let's not even mention all the cookies and cakes. But soon enough, you'll be trading your boots for shorts and your oven for the grill. It's just how the cycle goes.
This week, as you get your hands on some of that fresh spring produce, keep that faithful oven of yours in mind. It roasts veggie after veggie to sheer perfection, making certain your sides are simply sensational.
When asparagus meets the oven, it doesn't need much else. Food Network Magazine's pristine Roasted Asparagus calls upon nothing more than toasted pine nuts and lemon to accentuate its earthy flavors. Ina Garten's Parmesan Roasted Asparagus, on the other hand, is luxurious and the perfect mate to a sumptuous steak.
Though Roasted Carrots may scream fall, this recipe by Food Network Magazine uses lemon, red onion, cilantro and spices to inject a seasonal flair. Add a dose of green for Roasted Carrots and Peas, ensuring that the vibrancy of the season shines through. Here's a good tip: It's a good idea to parboil hard veggies like carrots so the finished product comes down without a crunch.
Nate Appleman's Roasted Green Beans With Pancetta and Yogurt for Food Network Magazine will undoubtedly impress at any dinner party, while Bobby Flay's Garlic-Roasted Green Beans With Shallots and Hazelnuts can serve as a side for any night of the week.
Even though Ina Garten's Roasted Artichoke Salad calls for the frozen stuff, use fresh, in-season artichokes for a salad that's brimming with Mediterranean goodness.
Fennel is at its peak from early autumn to spring, so now is the time to get it on the table. Food Network Magazine's Roasted Fennel With Tomatoes (pictured above) fuses the bulb's licorice-like quality with grape tomatoes literally bursting with sweetness. As a side, this recipe is super fresh and capable of doing any protein justice.
Preheat those ovens and get roasting!
More roasted side dish recipes from friends and family:
Jeanette's Healthy Living: Roasted Cauliflower, Carrots and Chickpeas With Halloumi Cheese
Dishin & Dishes: Roasted Asparagus and Avocado Toast
Cooking With Elise: Roasted Strawberries and a Mixed Green Salad
The Cultural Dish: Roasted Sweet Potatoes: Two Variations
Weelicious: Roast Chicken With Caramelized Lemons, Cherry Tomatoes and Olives
Napa Farmhouse 1885: Roasted Leeks With Polenta and Pork Tenderloin
Red or Green?: Spicy Roasted Radishes and Asparagus With Balsamic Vinegar
Virtually Homemade: Grilled Rosemary Garlic Potatoes
The Sensitive Epicure: Roasted Fingerling Potatoes and Asparagus With Rosemary
Feed Me Phoebe: Artichokes With White Wine and Thyme
Devour: Oven Roasted Vegetable Recipes
FN Dish: An Ode to the Oven, Roasted Side Dish Recipes
More posts from Allison Milam.
Similar Posts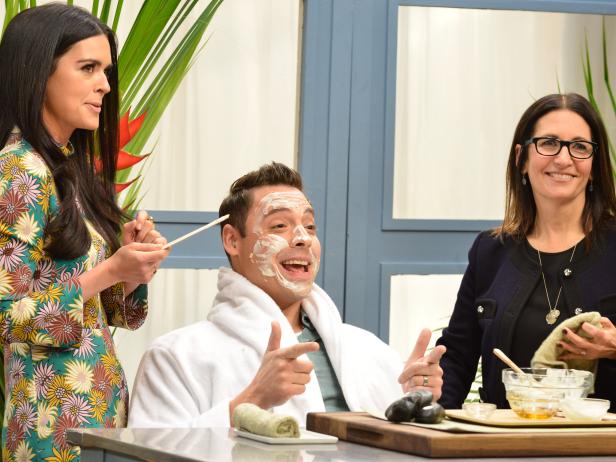 You don't have to travel somewhere exotic to make the most of your time off....