A lot of our favorite spring sides come mashed — or smashed, depending on your word-choice preference. This week we're zeroing in on a texture for side dishes that makes for good eating — and easy chewing. Some mashed dishes entail a ricer or the back of your fork. Others are mashed in a more casual sense. All of these dishes, however, involve a certain level of deconstruction.
When it comes to smashed spring peas, the British know what's up. Go for Jamie Oliver's Minty Mushy Peas, which will work as a hearty, vegetarian side. Though he opts for frozen peas, we all know the fresh ones are ripe for the mushing. Rachael Ray adds creamy, slightly sweet cheese to her Smashed Peas and Ricotta Cheese recipe.
This last recipe is not mashed in its entirety, but it shows how mashed ingredients fit into bigger pictures. Tagliatelle With Smashed Peas, Sausage and Ricotta Cheese by Giada De Laurentiis uses the pulverized pea for its creamy, filling and subtly sweet attributes. The spicy sausage counteracts the mild peas and cheese, creating a pasta side ready for any night of the week.
More likely than not, mention of anything mashed brings up the topic of potatoes. We're focusing on new potatoes, in season from April to July, which mash to perfection with their skins on or off. Tyler Florence's recipe for Smashed New Potatoes With Peas, Lemon and Pearl Onions is anything but one-dimensional, strewn with pearl onions and peas that pop. Along that same vein, Dave Lieberman's Basil Chive Red Potato Mash leaves the skins on for texture — and minimal work — and adds freshness with the herbs. In Tyler Florence's Chive and Garlic Mashed Potatoes, the oniony spring herb adds color and pep to year-round Yukon golds.
Masaharu Morimoto's Mashed Tofu Salad (Shira-ae) for Food Network Magazine is perhaps the most unconventional of mashed sides on our list. The tofu is merged with fresh spinach leaves, as well as a bold sauce of mirin and soy sauce.
We use the term "smashed" loosely in this last one. Grilled Salmon With Smashed Cucumber-Date Salad is a refreshing side of crushed cukes, sliced fennel, dates and walnuts. Wrap halved cucumbers in towels and smash them until the juices are released for an unexpected, fresh salad that jives wonderfully with grilled fish.
More mashed sides from friends and family:
Weelicious: Mascarpone Mashed Potatoes
Jeanette's Healthy Living: Creamy Garlic Mashed Cauliflower and Potatoes
Cooking With Elise: Savory Banana Corn Cakes
Virtually Homemade: Three-Onion Brown Butter Mashed Potatoes
Napa Farmhouse 1885: Mashed English Pea Spread on Garlic-Rubbed Bruschetta With Roasted Salmon
Red or Green? Smashed Potato Tacos With Guacamole & Tomato Salsa
Devour: Easy Mashed Plantains Recipe
Domesticate Me: Mashed Sweet Potatoes With Goat Cheese
The Sensitive Epicure: Italian Style Smashed Potatoes
The Heritage Cook: Whipped Ginger-Cardamom Sweet Potatoes
Dishin & Dishes: Truffled Mashed Potatoes With Prosciutto and Rosemary
More posts from Allison Milam.
Similar Posts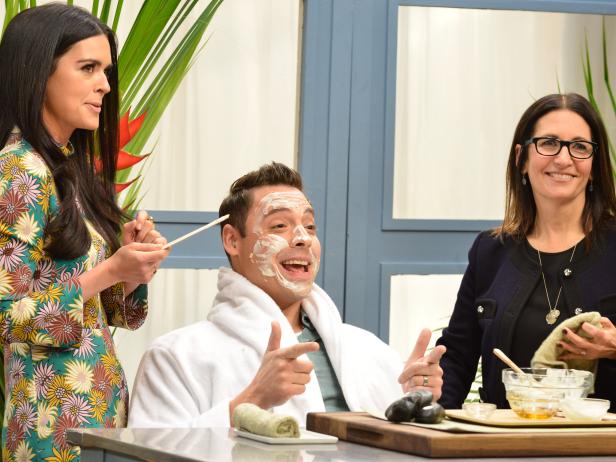 You don't have to travel somewhere exotic to make the most of your time off....