So it's the day after Easter and you look in your fridge to see half a baked ham and a bunch of hard-boiled eggs (maybe even colored ones) and you think: What am I going to do with all these holiday leftovers? Luckily Food Network has some great ideas for using them up, helping you take the rut out of leftover food.
But these aren't your average hash and deviled egg recipes. Here you'll find a hearty lentil soup with ham (pictured above), jambalaya with ham and eggs, salmon salad with crumbled hard-boiled eggs and even Scotch eggs. If you don't know what that last one is, you'll have to read on to find out.
Leftover Easter Ham and Egg Recipes
Lentil Soup With Peas and Ham (pictured above) — Food Network Magazine's recipe for lentil soup is packed with vegetables and diced ham. Stir in frozen peas and yogurt at the last minute to add a burst of spring freshness and creamy texture.
Deep-Dish Ham Quiche With Herb and Asparagus Salad — This quiche recipe from Tyler Florence is packed with ham and sweet onions. Serve it with a refreshing side salad of asparagus and fresh herbs for a spring touch.
Jambalaya With Shrimp and Ham — Ellie Krieger's jambalaya recipe captures the essence of the South and includes diced ham and shrimp. Cook the rice in the jambalaya so it absorbs the flavors.
Ed's Mother's Meatloaf — This classic meatloaf adapted by Nigella Lawson from a friend's mother's recipe includes hard-boiled eggs in the center. When you're craving simple, comfort food, this recipe is just for you.
Salmon Salad — This dish from Paula Deen would make a great lunch the day after the holiday. Flaked salmon is combined with crushed hard-boiled eggs, bell pepper, onion, cucumber and mayonnaise. Serve over lettuce leaves or try it as a sandwich.
Broccolini With Hard-Boiled Egg — Chopped hard-boiled eggs make a delicious topping for vegetable side dishes and green salads. Serve this dish of blanched broccolini tossed with mustard vinaigrette and topped with a chopped egg.
Grandma Jean's Potato Salad — Potato salad is a wonderful way to use leftover hard-boiled eggs. And if you're craving a bit of summer in early spring, who can stop you from making this classic recipe from the Neelys?
Kicked Up Scotch Eggs — If you've never had a Scotch egg before, now is the time to try. Each hard-boiled egg is wrapped in sausage meat, then breaded and fried. This recipe from Emeril puts a Cajun spin on the British dish.
Salade Nicoise — A classic salade Nicoise always includes wedges of hard-boiled eggs. Try Melissa d'Arabian's recipe, which features a lemon-olive vinaigrette.
Macaroni and Cheese With Ham — Giada's macaroni and cheese includes diced ham and three different Italian cheeses. Instead of macaroni, the recipe calls for egg noodles.
Browse this gallery for more ways to use leftover Easter eggs.
More posts from Joseph Erdos.
Similar Posts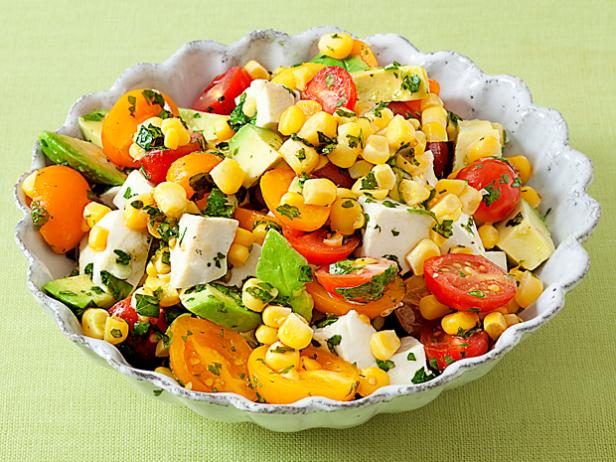 When it's too hot to cook, look no further than these tomato-focused recipes....