May Madness hits Food Network this spring as Iron Chefs battle it out — one-on-one — in the first-ever Iron Chef America: Tournament of Champions. With five episodes and a panel of revolving judges, the tournament features high-stakes, bracket-style battles between the best of the best in the culinary world. The tournament begins Sunday, May 5 at 10pm/9c with a face-off between the two newest Iron Chefs, Alex Guarnaschelli and Geoffrey Zakarian.
Get the full schedule:
Episode One: Alex Guarnaschelli vs. Geoffrey Zakarian
Premieres Sunday, May 5 at 10pm/9c
Iron Chef Alex Guarnaschelli battles Iron Chef Geoffrey Zakarian, with the winner moving on to face Iron Chef Michael Symon.
Episode Two: Marc Forgione vs. Jose Garces
Premieres Sunday, May 12 at 9pm/8c
Iron Chef Marc Forgione and Iron Chef Jose Garces go head-to-head, with the winner progressing to cook against Iron Chef Masaharu Morimoto.
Episode Three: Winner of Episode One vs. Symon Premieres
Sunday, May 19 at 9pm/8c
Iron Chef Michael Symon cooks against the winner of the Guarnaschelli vs. Zakarian battle. The judges for this battle are Ree Drummond, Aaron Sanchez and Trisha Yearwood.
Episode Four: Winner of Episode Two vs. Masaharu Morimoto
Premieres Sunday, May 26 at 9pm/8c
Iron Chef Masaharu Morimoto battles the winner of Forgione vs. Garces, in front of judges G. Garvin, Candice Kumai and Jeffrey Steingarten.
Episode Five: Finale
Premieres Sunday, June 2 at 10pm/9c
The winning Iron Chefs battle for the tournament championship. Judges Donatella Arpaia, Karine Bakhoum and Iron Chef Bobby Flay determine who will become Grand Champion.
Get to know the Iron Chefs better:
More posts from Sarah De Heer.
Similar Posts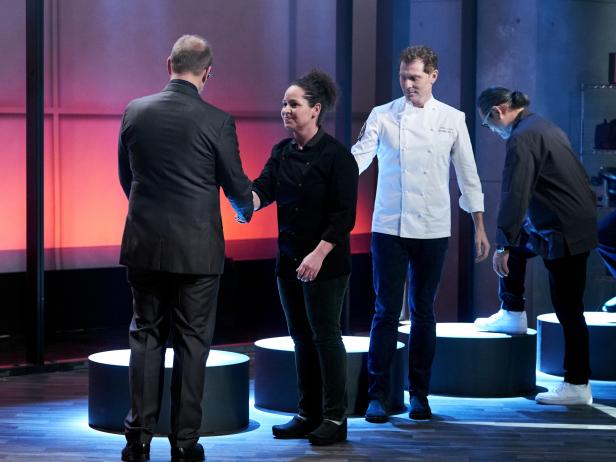 Get the latest details on the all-new series Iron Chef Showdown....