by Amanda Marsteller
Satisfy your Cinco de Mayo cravings at Food Network-approved Mexican eateries across the country. These savory and spicy stops will perk up your palate, from poblano-style cemita sandwiches in Chicago to Guerrero-style fish tacos in San Diego. Grab a margarita and celebrate Mexico's rich culinary heritage stateside.
1. Avila's – Dallas
This Tex-Mex menu showcases specialties like chile relleno, pollo con calabaza — a Mexican chicken stew with squash and corn — and brisket tacos that Guy raved about on Diners, Drive-Ins and Dives. Stop and savor the brisket, slow-cooked in red wine, garlic and onions until tender and juicy.
2. Cemitas Puebla — Chicago
At the Windy City's only restaurant serving cemitas, you'll find authentic poblano sandwiches on sesame rolls slathered with avocado and adobo, then stuffed with meaty fillings like breaded pork chops or more adventurous options like pata, aka cow foot. No wonder they sell 300 cemitas a day.
3. Teresa's Mosaic Cafe — Tucson, Ariz.
Breakfast is the main attraction at this cafe, where the huevos rancheros is so beloved that Bobby Flay challenged the chef to a Southwest-style Throwdown. It's never too late to order this hit made with homemade fried tortillas, refried beans and roasted green chile sauce, as Teresa's serves huevos all day long.
4. Chico's Tacos — El Paso, Texas
For a cheap feast, head to Chico's Tacos for "the best taco I've ever eaten," Aarón Sánchez says. Chico's serves hand-rolled, fried beef tacos that swim in a tomato and chile sauce-filled paper boat, buried under a hefty pile of shredded cheese. With a secret sauce and simple pleasures, this dive is a lone star legend.
5. Mercadito Midtown — Miami, Fla.
Step on the spicy side with the "Vato Loco" cocktail: "the hottest drink on Earth." It features seven different types of chiles and requires a signed waiver before the first sip. Or scope out the special Cinco de Mayo celebration with a live mariachi band and $40 family-style Mexican menu for sharing with friends.
6. La Texanita — Santa Rosa, Calif.
For a taste of Mexico in Guy's hometown, check out La Texanita's standout carne asada tacos and authentic posole. The tacos boast homemade tortillas and flavorful beef with radish, cilantro and jalapenos, and the posole stew gets its flavor from pig's feet cooked in a broth of red chiles, garlic and hominy.
7. Suenos — New York
"Suenos" translates to "dreams" in English, and this hideaway drums up delicious visions with inventive renditions of Mexico's diverse cuisine. Watch the house cocinera craft tortillas in the dining room, and order Aarón's favorite chile relleno dish of deep-fried chiles stuffed with smoky pork filling.
8. Mama Testa Taqueria — San Diego
The Guerrero-style fish tacos are Throwdown-approved, prepared with fried catfish, crunchy tortillas, Mexican slaw, queso fresco and black beans. The salsa bar with eight different flavors and toy wrestling rings that double as condiment holders add to the joint's festive feeling.
9. Red Iguana — Salt Lake City
Here you'll find a mole for every mood, from mole amarillo, with raisins, zucchini and guajillo peppers, to mole negro, "the king of moles," featuring a blend of chile mulato, negro pasilla, Mexican chocolate and much more. Guy joked that the ingredient-heavy recipe included everything but his sunglasses.
10. El Nopal Bakery — Chicago
Since there's always room for dessert, don't miss this Chicago landmark serving sweet treats like pan dulce, a chewy sweetbread with a flaky decorative topping, and polvorones, the crumbly shortbread cookies that are flavored with nuts and also known as Mexican wedding cookies.
More posts from Guest Blogger.
Similar Posts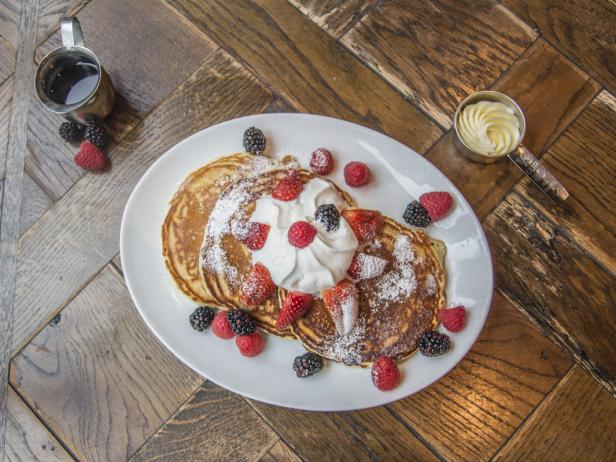 Chefs share where they go out to eat with the tiniest of food critics... their kids....