We don't need to be the ones to tell you there's no science to a grilled cheese. For a Classic American Grilled Cheese, simply slather slices of white bread with some butter, pile on the American cheese and get it on the griddle. Things start to get more interesting, however, when your ingredient list broadens beyond just one cheese, bringing on a whole new spectrum of flavor.
Let's start on the grilled sandwich that focuses on the cheese itself: This Three-Cheese Grilled Cheese recipe by Food Network Magazine stacks cheddar, Swiss and American before heating to melted perfection. Forgoing slices, Rachael Ray's garlic-buttered Grilled 4-Cheese Sandwiches come laden with four shredded varieties — provolone, mozzarella, Parmesan and Asiago.
More often than not, the supreme grilled cheese is achieved using two simple ingredients: cheese and juicy tomatoes. Food Network Magazine's Open-Faced Tomato Grilled Cheese renounces that extra dose of bread, and its Triple Grilled Cheese With Tomato Soup pairs the sandwich with its consummate match.
Add meat to the traditional grilled cheese for a well-rounded sandwich. Ina Garten's Ultimate Grilled Cheese (pictured above) for Food Network Magazine fuses bacon and two kinds of cheese, while its Corned Beef Grilled Cheese comes together with spicy whole grain mustard, grated Jarlsberg and freshly sliced deli meat. Food Network Magazine's Ham-Taleggio Grilled Cheese counters the salt of the meat with the sweet crunch of green apple.
For an upscale take on the lunchtime favorite, Jeff Mauro's Squash, Manchego and Balsamic-Onion Grilled Cheese uses home-roasted, maple-infused squash. His French Onion Grilled Cheese piles homemade caramelized onions and Gruyere on sourdough for a handheld rendition of the classic soup. Two forms of fig, creamy brie and fluffy challah create the bulk of Sandra Lee's elegant Double-Decker Truffled Grilled Cheese.
Never knew grilled cheese had a sweet side? Food Network Magazine's Camembert-Apple Grilled Cheese With Salted Caramel comes on a baguette and is accompanied by an indulgent dipping sauce.
We know the slicing stage can be a contentious moment, so we'll leave that part up to you. Whether cut in triangles or rectangles, rest assured that the flavor is all there.
More grilled cheese recipes from friends and family:
Jeanette's Healthy Living: Grilled Cheese With Kale Artichoke Pumpkin Seed Pesto
Cooking With Elise: Inside-Out Grilled Cheese With Bacon
Red or Green?: Grilled Cheese Sandwiches Red or Green-Style
Napa Farmhouse 1885: Grilled Ham and Cheese Sandwiches
Weelicious: Kentucky Hot Brown Panini
Virtually Homemade: Grilled Cheddar, Apple and Arugula Sandwich
The Sensitive Epicure: Individual Goat Cheese Mac & Cheese (Gluten-Free, Lactose-Free)
Devour: Caramelized Onion Grilled Cheese
Thursday Night Dinner: Grilled Cheese and Tomato Soup
The Heritage Cook: Open Faced Grilled Halloumi Sandwiches
Big Girls, Small Kitchen: Muhammara Grilled Cheese
Daily*Dishin: Grilled Jarlsberg and Black Forest Ham With a Surprise
Feed Me Phoebe: Mexi Grilled Cheese With Avocado, Pepper Jack and Refried Black Beans
What's Gaby Cooking: Brie, Fig and Asian Pear Panini
More posts from Allison Milam.
Similar Posts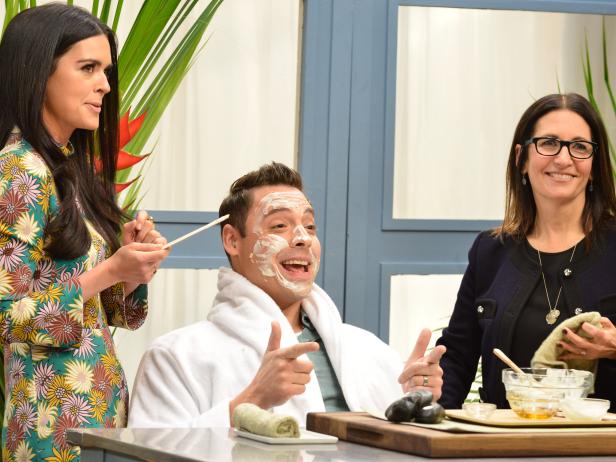 You don't have to travel somewhere exotic to make the most of your time off....