FN Dish is counting down to the Season 3 premiere of Chopped All-Stars by introducing a competitor every day. Sixteen competitors including Food Network and Cooking Channel talent, renowned chefs, Chopped judges and celebrities are competing for a chance to win the title of All-Stars Champion and a $50,000 donation to charity. Watch the premiere on Sunday, April 7, at 9pm/8c and keep coming back to FN Dish for exclusive interviews and behind-the-scenes content.
Gabriele Corcos stars with his wife, Debi Mazar, in Extra Virgin on Cooking Channel. Born in Florence, Italy, Gabriele has a passion for Tuscan cuisine that runs through his veins. He loves cooking for his family and will soon be serving up his delicious food to the public — a new restaurant in Brooklyn is in the works. But you may not know that Gabriele hates cooking with a classic Italian herb. Find out what it is and more about him in his Q&A below.
What's your Achilles' heel ingredient, one that you hate to work with or encounter in someone else's dish?
Gabriele Corcos: Beef liver.
What dish or ingredient will we never catch you eating?
GC: Oregano.
What was your most memorable meal? What, where, who? Details, please.
GC: My wedding anniversary in Los Angeles. I had lunch in my favorite spot, Angelini Osteria, where the owner, Chef Gino [Angelini], treated Debi and me to a full tasting menu!
What's your guilty pleasure food?
GC: I am never (or always?) guilty; I always cook what I am in the mood for.
Is there one dish that you always order out and never make at home?
GC: No.
What kitchen tool can you not live without?
GC: Wooden spoon.
If you weren't in food, what career would you like to have tried?
GC: Farming.
What's your favorite "food city" to visit?
GC: New York.
What's your favorite late-night snack?
GC: Cookies and milk at night.
What's one must-have at your last supper?
GC: Steak.
Who's your favorite person to cook with?
GC: My wife and kids.
Rapid fire: Think fast!
Ketchup or mustard? Ketchup
Chocolate or vanilla? Chocolate
Coffee or tea? Coffee
Burger or hot dog? Burger
Cream cheese or butter? Butter
Soda or water? Water
Sprinkles or jimmies? None
Gabriele is competing for Feeding America.
More posts from Joseph Erdos.
Similar Posts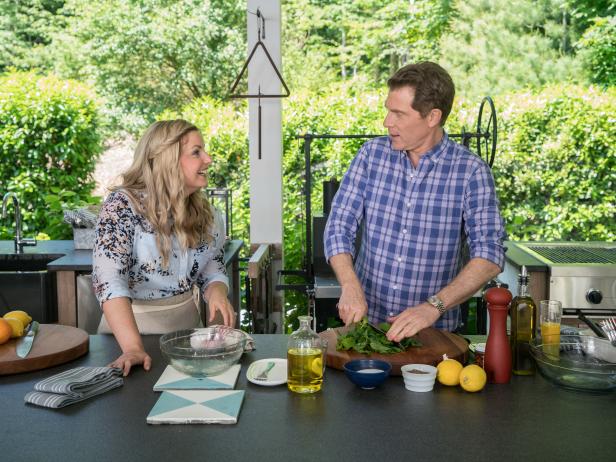 Get the latest details on the all-new series, The Bobby and Damaris Show....