While rice is perhaps the most traditional starchy side dish, there are indeed other grains to swap in when you're looking to switch up your usual dinner routine. Just like rice, easy-to-make farro, bulgur and couscous become tender and satisfying when boiled, and they stand up well to bold ingredients and flavorful sauces. Think of these grains as blank slates; use them as a way to put leftover vegetables to work, to experiment with new-to-you herbs and to introduce unfamiliar flavors to your family for the first time. Check out a few of Food Network's favorite grain salads below, then browse these photos to find more ways to cook with grains.
In her top-rated recipe for Mediterranean Farro Salad (pictured above), Giada pairs these slightly chewy bites with colorful produce like green beans and red pepper, plus black olives and chunks of nutty Parmesan cheese. A key element to her salad is the simple vinaigrette. To prepare it, just mix a splash of sherry vinegar with fruity olive oil and tangy Dijon for a light topping that won't disappoint. Watch this video to see how Giada makes the salad from start to finish.
Bobby embraces bulgur wheat — a type of cracked grain —in his healthful recipe for Bulgur Salad With Green Onion Vinaigrette. Ready to enjoy in only 20 minutes, this weeknight-friendly dish features plenty of fresh flavors, like plum tomatoes, parsley and mint. For an extra punch of flavor, he blends together bright lime juice, green onions and a single Serrano chile pepper for manageable heat in a smooth dressing that marries the tastes of this good-for-you salad.
Resembling small pearls, Israeli couscous is not actually a grain but granules of wheat flour that are traditionally white in color and take on the texture of pasta once cooked. Food Network Magazine elevates this simple staple to the next delicious level in its recipe for Cauliflower Couscous (pictured right) by tossing it with sweet sauteed shallots, tender cauliflower florets and chewy chopped dates. Just a pinch of cinnamon sprinkled in with the dates helps to balance the acidity of red wine vinegar, which is added with parsley just before serving.
Meatless Monday, an international movement, encourages people everywhere to cut meat one day a week for personal and planetary health. Browse more Meatless Monday recipes.
More posts from Maria Russo.
Similar Posts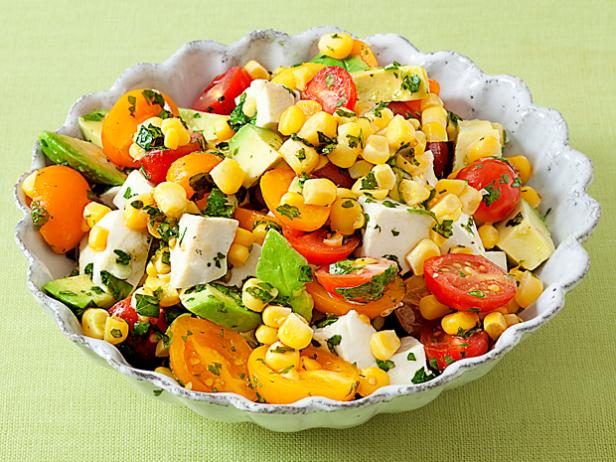 When it's too hot to cook, look no further than these tomato-focused recipes....