Known for its trademark light-orange hue and heart-healthy proteins, salmon is a naturally flavorful fish, one that even kids and picky seafood challengers enjoy. Salmon can stand up to high heat and pairs well with the taste of charcoal, which is why many recipes prefer to grill the light, flaky fillets. In the winter months, however, instead of standing over a barbecue in the bone-chilling snow, prepare salmon in the warmth of your kitchen using easy cooking techniques like poaching, baking and sauteing. We've rounded up Food Network's top-five salmon dishes, each with stress-free recipes that can be made easily indoors. Check out the classic and creative takes on this family-friendly fish below, then browse our entire collection of salmon recipes.
5. Crispy Salmon Croquettes With Remoulade Sauce — Similar to crab cakes, Sandra's golden-brown bites are made with prepared salmon and a filling of egg, a splash of hot sauce and fish-fry coating mix for added flavor, then pan-fried until warm and served with a cool mayonnaise-garlic sauce.
4. Salmon and Dill Chowder With Pastry Crust — Rachael remakes the everyday chicken pot pie into a hearty seafood bowl, complete with a creamy combination of poached salmon, celery and potatoes, finished with a pre-baked flaky crust.
3. Salmon Hash — An impressive brunch pick that won't disappoint, Food Network Magazine's simple hash features sauteed chopped salmon alongside timesaving store-bought hash browns, tender peppers and onions, plus a no-fuss salad of peppery arugula.
2. Soy-Maple Salmon — Salty and sweet flavors combine effortlessly atop Food Network Magazine's baked salmon, marinated in a bold mixture of soy sauce, maple syrup and orange juice, then served with cranberry-dotted cauliflower.
1. Whole-Wheat Spaghetti With Lemon, Basil and Salmon (pictured above) — In only 20 quick minutes, Giada builds layered plates of healthful ingredients, including nutrient-rich spinach, whole-wheat pasta studded with garlic and capers, and seared salmon, to create a top-rated supper that's easy enough to prepare on a weeknight. Click the play button on the video below to learn her simple tips for making it.
More posts from Maria Russo.
Similar Posts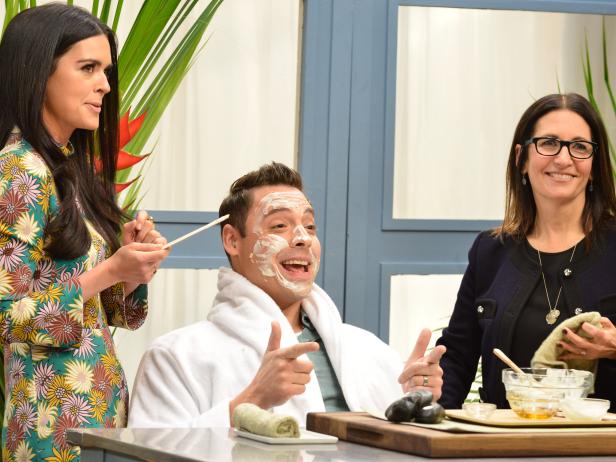 You don't have to travel somewhere exotic to make the most of your time off....