In most households a glistening baked ham takes focus at the table on Easter Sunday. For many it's a tradition that isn't often broken for fear of a family riot. But Easter doesn't have to be all about ham. If you're willing to stray from tradition and try a new and different main dish, Food Network has some great ideas for your holiday meal.
How about a rack of lamb or a roast pork loin or maybe even turkey? Lamb is actually a very popular Easter main dish in other parts of the world and pork comes in at a pretty close second. The following recipes are perfect for any Easter gathering, with flavors that bridge the changing seasons. Who knows — your family might just surprise you and love the new dish even more than the ham.
Crown Roast of Lamb (pictured above)
You may be more familiar with a crown roast of pork, but this lamb version, flavored with thyme and coriander, has the same fancy appeal without being too laborious to make (a Bundt pan will make all the difference). For an easy-to-make gravy, mix the pan juices with mustard and chopped rosemary.
Pancetta-Wrapped Pork Roast
This recipe takes a plain pork loin to the next level by wrapping it in pancetta slices. It's also flavored with fresh rosemary and thyme and roasted with white wine.
Braciole
For an Italian-style Easter, try this braciole, a rolled beef flank. It's stuffed with breadcrumbs and two Italian cheeses, rolled and tied, and oven-braised in white wine and marinara sauce.
Herbed Leg of Lamb With Roasted Turnips
An herb paste of scallions, parsley, dill and marjoram coats this leg of lamb. The secret to getting it seared perfectly is roasting it at 500 degrees before spreading on the herb paste and then continuing to roast at a lower temperature of 350 degrees. The result is a beautiful crust on the outside and juicy, moist meat on the inside.
Braised Pork Shoulder
Coriander and cumin lend an earthy fragrance and flavor to this pork shoulder, which is braised alongside fennel and onion in white wine and stock. It's simple, effortless and hearty.
Turkey Roulade With Spinach and Mushrooms
Turkey isn't just for Thanksgiving. This elegant turkey roulade is stuffed with a sauteed mixture of onion, garlic, mushrooms and spinach, which gives the dish a spring flair.
Roast Pork With Creamy Peas
In anticipation of the new season, this simple and easy roast pork loin is paired with peas cooked in cream. If you can't find fresh pods, frozen are fine.
Butterflied Cornish Hens With Sage Butter
Lemon zest and sage add a bright and earthy flavor to these roast Cornish game hens, which cook quickly since they've been butterflied. Double the recipe if you're expecting more guests.
Creole Mustard, Rosemary and Garlic Crusted Veal Rib Roast
Veal has a mild flavor that's enhanced with bold flavors — in this case, cracked black pepper, onion, garlic, rosemary and Creole mustard.
Braised Lamb Shanks With Green Olives and Apricots
This Mediterranean-influenced braised lamb dish offers a world of flavor with ingredients like lemon zest, garlic, fresh herbs and warm spices such as cloves and cinnamon. Briny, green Spanish olives and sweet dried apricots stud the dish with color.
For more holiday recipes, visit Food Network's Easter Central. What main dish will you serve during Easter?
More posts from Joseph Erdos.
Similar Posts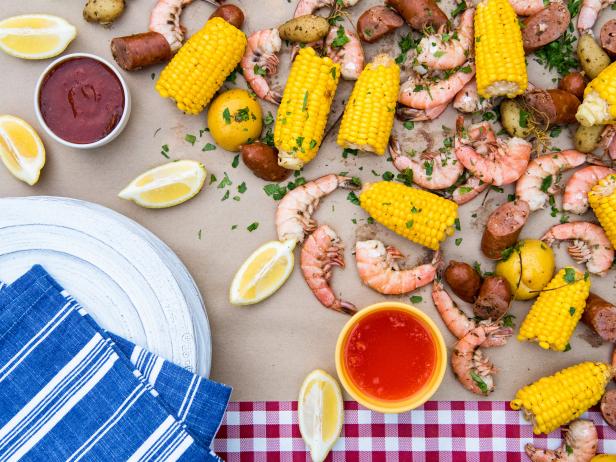 Have friends over — or embrace leftovers — with these Food Network recipes that feed more than four. ...