This past Sunday's episode of Rachael vs. Guy: Celebrity Cook-Off drastically cut the competition in half with a double elimination. Hines and Kathy were cast off in a tasting challenge that had the bottom three making food on a stick. Carnie won the challenge with her beef kebab dish, which Rachael and Guy determined to be the best overall. But each dish had some criticisms — even Carnie's, which was found to be too large of a portion. Kathy's fruit skewers, on the other hand, were too small of a portion. And Guy found the shrimp in Hines' surf and turf kebabs to be undercooked.
There were a lot of things each contestant could have done differently to win the challenge, but what FN Dish wants to know is what you would have made to impress Rachael and Guy. Do you have a special recipe that would have floored the judges/mentors? Share your best recipe for kebabs, skewers or any food on a stick.
More From Rachael vs. Guy:
Episode 5 Recap (Video)
Watch the Full Episode (Video)
Episode 5 Highlights (Photos)
Hines' and Kathy's Exit Interviews
Recipe Ideas:
Seafood Skewers on a Bed of Chile-Garlic Spinach
Lemon Pepper Chicken Tenders
Salad on a Stick
Bacon Wrapped Prawns With Chipotle BBQ Sauce
Summer Veggie Kebabs
Yakitori Chicken
Plus: Grilling Central
Tell us your best food on a stick recipe. What would you have made for Rachael and Guy? Leave a comment below.
More posts from Joseph Erdos.
Similar Posts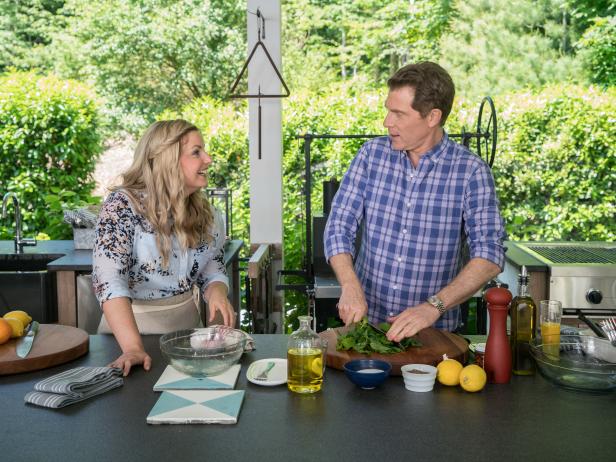 Get the latest details on the all-new series, The Bobby and Damaris Show....