This weekend, Food Network has new episodes of cooking shows and competition shows. It all starts on Saturday with Paula, Ree and Giada. On Paula's Best Dishes, with the help of her husband Michael, Paula's cooking a kid-friendly meal for their grandson Henry. Afterward on The Pioneer Woman, Ree is making a hearty meal for her boys who've been working hard out on the farm. Later on Giada at Home, Giada is cooking through her arsenal of easy meatball recipes. In the afternoon it's an amusement park-themed episode of Sugar Dome.
On Sunday, start your evening with an all-new episode of Chopped on a special night. Returning losers are given another chance to redeem themselves. Then it's a brand-new season of Worst Cooks in America. Anne and Bobby assemble their teams from a crew of hopeless home cooks for culinary boot camp. Last, there's a new episode of Chef Wanted on a special night. Tune in to see Anne Burrell put four chef candidates through the ringer on the toughest job interview of their lives for the chance to become the chef of a Puerto Rican hot spot.
Paula's Best Dishes: "Simply Dinner"
Paula Deen and her husband, Michael, are in the kitchen making a kid-friendly dinner for their daughter, Michelle, and grandson Henry. On the menu are Pretzel-Crusted Chicken With Cheddar Cheese Sauce, Broccoli and Rice Pilaf, Glazed Baby Carrots and Praline Brownies With Praline Frosting. It's a meal that will surely please the adults and kids alike.
Tune in: Saturday, February 16 at at 9:30am/8:30c
The Pioneer Woman: "Cowboy Tailgating"
The cowboys have a long day of hauling cattle ahead so a hearty tailgate lunch is in order. Ree's got a delicious meal planned: there's got to be beef so she's making Lasagna, plus Garlic Cheese Bread and for dessert, Fried Pies, which are easy to eat.
Tune in: Saturday, February 16 at 10am/9c
Giada at Home: "Meatball Madness"
In this episode, Giada shows you how fun and versatile meatballs can be. She's sharing four recipes that are sure to please the meatball lover: Mini Meatballs With Raspberry-Balsamic Barbeque Sauce, Meatball Panini, Pizza Bianca With Kale and Meatballs and Classic Italian Turkey Meatballs.
Tune in: Saturday, February 16 at 11:30am/10:30c
Sugar Dome: "Extreme Amusement Park Rides"
Cake artists, sugar artists and roller coaster designers join forces to create food art that captures all the thrills and adventure of extreme amusement park rides. After getting through a grueling challenge filled with twists, only one team will walk away with the $15,000 prize.
Tune in: Saturday, February 16 at 1pm/12c
Four chefs, who lost big in their first competition, are returning to the Chopped kitchen to seek redemption. But it's not going to be easy even for the most practiced and prepared competitor. The appetizer round has the chefs dealing with pulpo and fava beans. The entree round requires their sharpest skills when working with cactus. And for the dessert round, the two remaining chefs have to work with a classic cookie and a tangy fruit. None of these chefs want to make a mistake, but in the end only one former loser can win it.
Tune in: Sunday, February 17 at 8pm/7c
Worst Cooks in America: "The Worst of the Worst"
Chefs Anne Burrell and Bobby Flay find 14 of the worst cooks in America to compete in a boot camp-style culinary competition. The recruits must say goodbye to their days of the microwave and learn to cook to stay in the competition.
Tune in: Sunday, February 17 at 9pm/8c
Chef Wanted with Anne Burrell: "Puerto Rican Paradise"
Puerto Rico's late-night hot spot, Oceano, is in need of an executive chef who can expand the restaurant's offerings with a culturally influenced menu. Chef Anne Burrell has four candidates who think they are up to the task. The first two challenges have the chefs reimagining a classic Puerto Rican dish and then creating a sexy dish using a staple ingredient. The two final chefs have the toughest test — running dinner service for an evening. Both chefs have some problems during service; who will get the offer to become the new executive chef of the restaurant?
Tune in: Sunday, February 17 at 10pm/9c
More posts from Joseph Erdos.
Similar Posts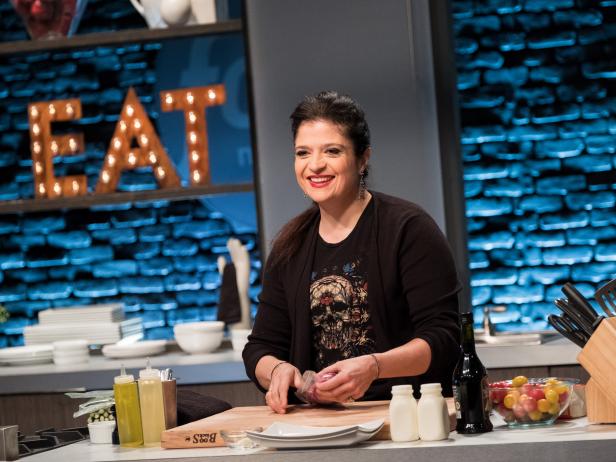 Get all the details on the upcoming premieres this weekend on Food Network....