So what has Dean been up to since winning $50,000 for his chosen charity, Miracle Babies, and the title of Rachael vs. Guy: Celebrity Cook-Off Season 2 Champion? FN Dish caught up with Dean to find out. He reveals how hard it was keeping his win a secret from everyone, what it was like having his kids at the finale and what it personally meant for him to win. Dean also dishes about his cooking background, culinary aspirations and upcoming appearances. Plus, find out whether Guy and Dean actually got matching tattoos to commemorate his win.
Also See:
Read Dean's Post-Win Interview
Watch Dean's Exit Interview
Browse Photos of Dean's Journey on the Show
See Dean's Home Kitchen as Featured in Food Network Magazine
What have you been up to since the end of Rachael vs. Guy? Has it been hard keeping your win a secret?
Dean McDermott: I've been very busy since doing Rachael vs. Guy. My website DeanMcDermott.com The Gourmet Dad is doing great. I've been busy blogging recipes and dispensing kitchen advice. I also just recently took part in a restaurant takeover of the Abigaile in Hermosa Beach. It was amazing! We sold out 90 tickets. And my haggis starter was a smash hit. Once it was announced in the press that I was doing the show, it got easier. The hard part was keeping the secret that I was even on it. I was so thrilled to do the show, I just wanted it to air. I'm so proud of the show and how it turned out.

How is your Gourmet Dad brand doing?
DM: The Gourmet Dad brand is doing really well. I'll be coming out with a line of kids' chef jackets and aprons. The brand is being received well and I couldn't be happier.
What did your kids think of you winning the show?
DM: They were thrilled that their dad won, and it was such a great moment to be able to have them there when it came down to the big decision. It would have definitely softened the blow if I lost. Liam kept looking at Guy and saying, "that's the guy from the cooking show with the cool car and crazy hair."
What has it meant to you being the winner of Rachael vs. Guy, Season 2?
DM: Winning Rachael vs. Guy is one of the proudest moments of my life. I set out to win the show. I told myself "this competition is yours to lose." I was confident in my abilities, but it was a lack of belief in myself that would have caused me to lose. I really focused on pushing that insecurity aside, and just told myself to go out and win. I knew it would mean so much to my family, myself and reputation as The Gourmet Dad. I'm starting a new career in the culinary world and this has really given me some street cred.
Tell us about your culinary experience. What made you go and learn to be a chef?
DM: My cooking experience started when I was 8. My belief was that all gentlemen should know how to cook and clean. I really gravitated toward cooking. I enjoyed putting different ingredients together and seeing how the outcome could make people happy and bring them together. The time I spent cooking with my mom is priceless. They're memories I will have forever. I also worked in various restaurants as a line cook, bartender, waiter and bouncer. I loved the life of a person in the food industry. It was a whole new underground world to me. I really felt like I belonged. I was a good cook, but I felt I lacked some of the more refined aspects of cooking. That's when I decided to go back to school and do it right. I still have a few more semesters of culinary school to go, but having five kids, it's tough to find the time to get back.
Do you think culinary school gave you an advantage in the show?
DM: Coming into the show, I thought my culinary school background would be very advantageous to me. That all changes when you are given ingredients at the last minute and expected within a certain amount of time to do something with them. Everything you've learned just leaves your brain. You forget it all. Taste is very subjective: Something that one person likes, another will hate. That plays a very big part in pleasing your guests and getting good feedback from them and getting their votes. I was in the bottom two twice. I thought I would never be there. It made me dig deep and execute.
Do you like cooking or acting better?
DM: Acting and cooking give me that same boost of adrenaline whether I do a good scene or a good dish. Getting that acknowledgment that people liked something you did is a rush. Cooking is more like theater: you have a live audience and get that immediate gratification, or disapproval.
Would you ever want to have your own cooking show?
DM: I would love to have my own cooking show. If you do something you're passionate about, you'll never work a day in your life. It would be so much fun sharing recipes and stories with people.
Did you and Guy end up getting tattoos together?
DM: Guy and I never got tattoos together as promised if I won the show. I am still going to get a Rachael vs. Guy tattoo. It was such a big moment in my life, it needs some skin commemoration.
Have you stayed in touch with anyone from the show?
DM: I've stayed in touch with everyone from the show. I just saw Wilson Phillips about a month ago. They were great! I text with everybody, and we're going to try and get together and have a big cook out reunion.
What's next for you? What are you working on?
DM: I'm going to do a pop-up restaurant in March. I'm doing Paula's Best Dishes and Guy's Big Bite. I'm testing recipes for a cookbook and am busy being a dad of five. I've never been so busy in my life, and I love it!
More posts from Joseph Erdos.
Similar Posts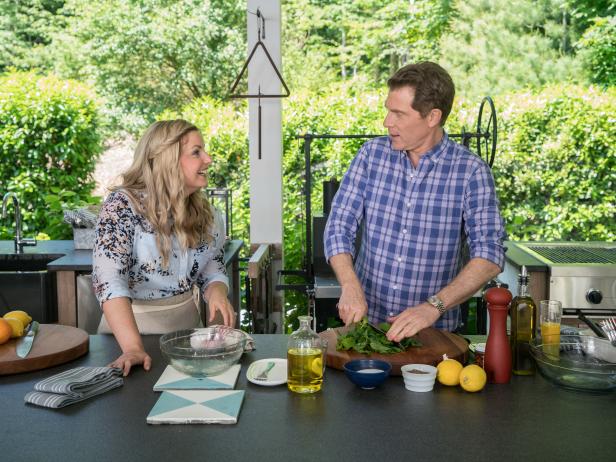 Get the latest details on the all-new series, The Bobby and Damaris Show....