By Ron Ben-Israel, contributions by Kate Kenny and Nikki Junda
Ron Ben-Israel has raised the bar on the newest season of Sweet Genius with more unusual techniques and inspired flavor combinations. That made the Sweet Genius team think back to the previous seasons. After revisiting the best moments from old episodes and the 10 best ingredient inventions, they also decided to narrow down the 10 best inspiration interpretations from Seasons 1 and 2.
1. Mauricio Santelice
Dessert: Chocolate Unicorn Emerging From an Ostrich Eggshell With Pate a Choux Swans
EPISODE 101/Disco Genius
Inspiration: Unicorn
When Chef Mauricio Santelice presented me with an entire mythological scene of dessert creations inspired by a unicorn, I knew that he was an ambitious and talented chef. Chef Mauricio's dish, with its chocolate unicorn leaping from an open ostrich eggshell and scrumptious pate a choux swans, made me feel as if I were given an edible surrealist painting. Inspired by my vision of a fantastical unicorn, Chef Mauricio's dessert transported me to another place.
2. Alon Gontowski
Dessert: Yin and Yang Honey and Pomelo Gelee Candies With a Pulled Sugar Flower
EPISODE 206/Electrifying Genius
Inspiration: Origami
It is particularly thrilling when a chef shows imagination by bringing different aspects of an inspiration into one dish. Chef Alon brought to mind the skill and technique of the origami maker with the continuous folding of pulled sugar to create a bright-red sugar flower sculpture. He also celebrated origami's Asian origin with small yin and yang morsels made of honey and pomelo gelee, and by piping Asian-inspired characters on the plate. Chef Alon created a wonderfully abstract but complete interpretation of my inspiration.
3. Diana Anello
Dessert: Bloody Mary Cake With Modeling Chocolate and Fondant Contortionist Legs
EPISODE 203/Golden Genius
Inspiration: Contortionist
The cake that Chef Diana Anello made for my contortionist inspiration was visually genius. She embraced the silliness and whimsy of her dessert by having legs come out of the top of her cake. Chef Diana's perfect imitation of the contortionist's legs was fun and playful, but also showed me that she is a dedicated cake craftswoman. Made with white modeling chocolate and wrapped with fondant painted to look like the contortionist's tights, the legs brought the movement and skill of the contortionist to life on the plate.
4. Deborah Brown
Dessert: Sugar Rubik's Cube® With Fruit Chews
EPISODE 207/Puzzled Genius
Inspiration: Rubik's Cube®
When I gave the chefs my Rubik's Cube® inspiration, I never suspected that I would get a chance to taste one! But that is exactly what I did when Chef Deborah Brown created a Rubik's Cube® replica made of granulated tangerine-flavored isomalt and fruit chews. While her melted isomalt was still cooling, Chef Deborah evenly placed her fruit chews on the quickly hardening sugar to imitate the colorful squares of the popular puzzle. With the sides of her cube now fully formed, Chef Deborah delicately pieced together her sugar sculpture. And voila! A perfectly crafted sugar replica of a Rubik's Cube®. Genius!
5. Katie Rosenhouse
Dessert: Chocolate Dragon Head Sculpture With Gold Leaf
EPISODE 108/Fiery Genius
Inspiration: Chinese Dragon Head
What was so spectacular about Chef Katie Rosenhouse's chocolate dragon head sculpture was how she captured the movement and festivity of a Chinese New Year celebration. Her sculpture was big, colorful and bold. Creating an elaborate chocolate piece takes time and great skill. The choice to add gold leaf gave her chocolate work a ceremonial air and created a sense of movement that mimicked the dragons one would see in a Chinese New Year's parade. Chef Katie celebrated my Chinese dragon head inspiration by creating a visually arresting piece of edible art.
6. Manabu Inoue
Dessert: Dark Chocolate and Peach Sorbet, White Chocolate Mousse, Chocolate Tuile and Chocolate Tornado Garnishes
EPISODE 105/Glistening Genius
Inspiration: Air
A genius can draw inspiration from anything. That is why for the final test of Glistening Genius, I asked the chefs to be inspired by the air. Chef Manabu Inoue displayed a broad range of techniques and a thoughtful understanding of my inspiration by incorporating air into every element of his dish. He made a dark chocolate and peach sorbet without cream to keep the texture light and the flavor fresh. He tied the elements of his plate together by draping them in thin chocolate garnishes that gave the impression of a twirling tornado. By giving me the lightness of air within the elements of his dessert and evoking the power of wind visually with his chocolate tornado garnishes, Chef Manabu deeply impressed me with his interpretation of my inspiration.
7. Alyssa Gangeri
Dessert: Passion Fruit Glace With White Chocolate Tentacles
EPISODE 105/Glistening Genius
Inspiration: Jellyfish
In my kitchen, it is important for the chefs to allow my inspirations to guide both the look and flavor of their dessert creations. Chef Alyssa Gangeri not only constructed a literal interpretation of a jellyfish on the plate with a passion fruit glace body and white chocolate tentacles, but she also incorporated tropical flavors into every element of her dish. I was amazed by Chef Alyssa's ability to build an entire dessert jellyfish in such a short amount of time and with such attention to detail. Her white chocolate jellyfish looked almost too real. The visual elements coupled with the tropical flavors elevated Chef Alyssa's jellyfish-inspired dish to an artistic masterpiece.
8. T.J. Obias
Dessert: Dark Chocolate Cake With Popcorn Sherbet, Caramelized Popcorn and Piped Chocolate Chickadee Footprints
EPISODE 202/Speechless Genius
Inspiration: Baby Chicks
Chef T.J. proved to me that he was thinking outside the box in the final test by using yellow, fluffy popcorn throughout a dessert plate inspired by yellow, fluffy chicks. His dark chocolate cake was as light as my baby chicks' plumage and his popcorn sherbet resembled a little egg. Add to that some adorable piped chocolate chickadee footprints across the plate and you have a whimsical and wonderful interpretation of my baby chicks.
9. Erin Gardner
Dessert: Stuffed Cherry Pops
EPISODE 204/Baby Genius
Inspiration: Snow Globe
I asked the chefs to be inspired by a wintery snow globe, and Chef Erin Gardner gave me a wonderful surprise that warmed my heart. She turned the cherries that I gave her as a mandatory ingredient into delectable, miniature snow globes by stuffing them with figs and spices and dipping them into white chocolate. The nearly all-white dessert gave the impression of a winter wonderland for the eyes and all things sugar and spice for the palate.
10. Martin Howard
Dessert: Warm Chocolate Cake With Passion Fruit Foam and Large Chocolate Diamond Rings
EPISODE 105/Glistening Genius
Inspiration: Diamond
I immediately saw Chef Martin Howard's inspiration when I looked down at his plate. Chef Martin made elegant rings for me with dark-chocolate bands and white chocolate diamonds on top. But his interpretation of my inspiration went even further than the visual elements of his dish. Once I dug deeper and experienced the flavors of his dessert, I realized that Chef Martin also made his warm chocolate cake extra rich to reflect the richness of a diamond. A simple idea that was simply brilliant.
Watch Sweet Genius: Thursdays, at 10pm/9c
More posts from Guest Blogger.
Similar Posts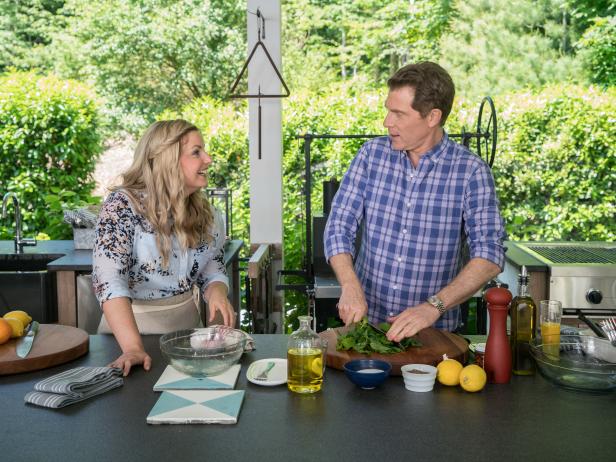 Get the latest details on the all-new series, The Bobby and Damaris Show....