Warm up with three regional chilis and see why each has a cult following. The experts share their recipes with Food Network Magazine.
In Texas, chili is practically a religion, with one important tenet: Keep it simple. That means no beans and, often, no tomatoes — just beef and spices. "Texas red," as the locals call it, gets its distinctive dark red color from a big shot of chili powder (a mix of spices that usually includes paprika, cumin and cayenne). Texans cook it low and slow, just like their barbecue, until the chili gets thick and the meat is super tender. Texas Chili Parlor in Austin serves one of the most well-known versions: The Austin American-Statesman called it "legendary," and owner Scott Zublin says his customers put away up to 250 gallons every week. You can order it mild, hot or extra-hot; the recipe Zublin gave us makes a moderately spicy chili. To turn the heat up or down, just adjust the amount of chili powder. 1409 Lavaca St.; txchiliparlor.com
Try the recipe: Texas Bowl of Red (pictured above)
Chili in Cincinnati doesn't look like any other kind — it's served over a pile of spaghetti. And it doesn't taste like any other, either. The Greek-immigrant restaurateurs who invented the dish in the 1920s seasoned it with the same spices they put in moussaka, including cinnamon and allspice. No one knows how the chili ended up over pasta — one theory is that the creator brought his chili home and his housekeeper put it over noodles — but everyone in town is clear on how to order it: "two way" (chili and spaghetti), "three way" (plus cheese), "four way" (plus chopped onion) or "five way" (plus beans). Dixie Chili, which opened in 1929 right across the border in Kentucky, is one of the oldest Cincinnati-style chili parlors, and although owner Spiros Sarakatsannis won't part with his father's original recipe (he keeps it locked in a vault), he was willing to give us this version for home cooks. Multiple locations; dixiechili.com
Try the recipe: Cincinnati Chili (pictured above)
New Mexico's signature chili is known as green chile stew, a slightly spicy soup made of pork and green chile peppers. The peppers are the local secret: Green chile stew purists insist on using Hatch chiles, grown in Hatch, N.M., which are known for their distinctive flavor and moderate heat. Blue Corn Café in Santa Fe has been serving a much-loved version of the dish for 15 years, and requests for the recipe pour in from around the world. Lucky for us, General Manager Gustavo Azurdia was happy to share it. Two locations; bluecorncafe.com
Try the recipe: Green Chile Stew (pictured above)
More posts from Food Network Magazine.
Similar Posts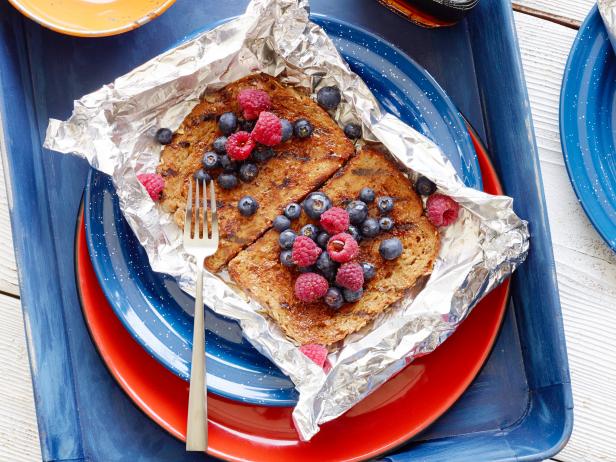 Maximize you're time outside this summer and grill up amazing breakfasts, lunches and desserts!...