On this past Sunday's episode of Rachael vs. Guy: Celebrity Cook-Off, the bottom two celebrity contestants, Dean and Chilli, competed in a milkshake blind-tasting challenge to determine who was to go home. Dean made a boozy Creamsicle-inspired milkshake that Rachael and Guy raved about. Chilli made a milkshake more on the classic side — though there was nothing wrong with it, she still ended up being eliminated.
Dean's milkshake recipe included orange liqueur, orange zest and orange segments. It also had a liqueur-soaked Twinkie on the side. Chilli's milkshake featured a combination of chocolate, peanut butter and cookies in a kid-friendly nod to her son. Both of these recipes were really exceptional, which made judging them that much more difficult. Without knowing whose creation was whose, Rachael and Guy chose the Creamsicle milkshake because it stepped outside of the box. Chilli regretted playing it safe, but she was still proud of what she made.
More From Rachael vs. Guy:
Episode 3 Recap (Video)
Watch the Full Episode (Video)
Episode 3 Highlights (Photos)
Chilli's Exit Interview
If you were in either of the contestant's shoes, what kind of milkshake would you have made?
Recipe Ideas:
Black and White Frozen Shakes
Salted Caramel Milkshakes
Coffee Sambuca Shakes
Guinness Milkshakes
Plus: Learn how to make the perfect milkshake
What's your idea of a perfect milkshake? What would you have made for Rachael and Guy? Leave a comment below.
Don't forget to watch Rachael vs. Guy: Celebrity Cook-Off on Sundays at 9pm/8c and keep coming back to FN Dish for more exclusive content.
More posts from Joseph Erdos.
Similar Posts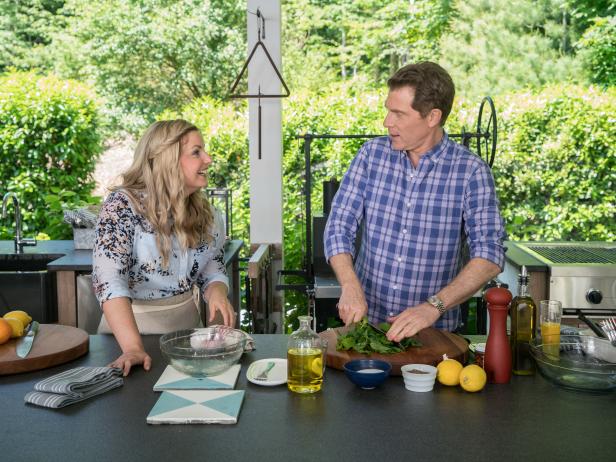 Get the latest details on the all-new series, The Bobby and Damaris Show....