On this past Sunday's episode of Rachael vs. Guy: Celebrity Cook-Off, the bottom two celebrity contestants, Kathy and Gilbert, competed in a midnight-snack cook-off to determine who was to go home. Kathy made a hummus that both coaches raved about. Though Gilbert's second attempt at a peanut butter sandwich was better than the one he made for the dinner theater challenge, it wasn't good enough to save him.
Which midnight snack do you think is better: Kathy's hummus with toasted pita chips or Gilbert's peanut butter and banana sandwich? Vote in the poll after the jump.
More from Rachael vs. Guy:
Photo Highlights from Episode 1
Rewatch Episode 1
As many of you may know, midnight snacks are often the only way to satisfy late-night stomach rumblings, especially when they wake you up. Whether it's leftover pizza, cookies, a PB&J or hummus and chips, eating something — anything — seems like the only way to get back to sleep.
Recipe Ideas:
Rachael's Hummus Pit-zas
Rachael's Crunchy Monkey Peanut Butter-Banana Sticks
Guy's Roasted Red Bell Pepper Hummus
Guy's Strawberry and Banana Stuffed French Toast With Grand Marnier Syrup
Plus More Snack Ideas From Food Network
Seeing that everyone has a favorite go-to midnight snack, FN Dish wants to know, what's yours?
What's your perfect midnight snack? What would you have made for Rachael and Guy? Leave a comment below.
Don't forget to watch Rachael vs. Guy: Celebrity Cook-Off on Sundays at 9pm/8c and keep coming back to FN Dish for more exclusive content.
More posts from Joseph Erdos.
Similar Posts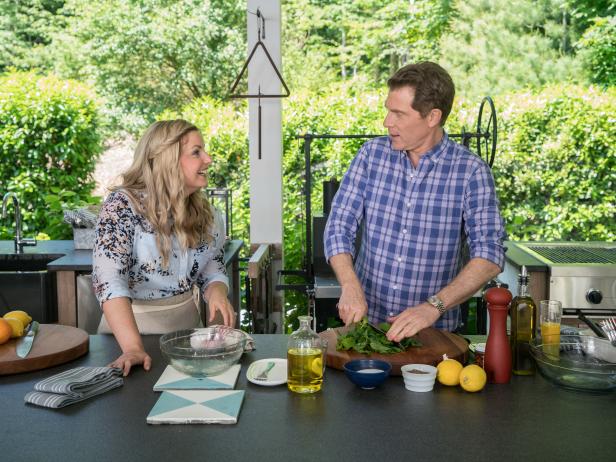 Get the latest details on the all-new series, The Bobby and Damaris Show....