Ditch the delivery drama and slice up a pizza of your very own. We're not talking about taking a box from the freezer. With the help of store-bought dough (available at most grocery stores or pizzerias), these pizza recipes are as quick as ordering in. Simply stretch out the dough, don with your favorite toppings and pop it in the oven.
Sometimes a good pizza comes down to the trilogy: mozzarella, tomato and basil. Giada De Laurentiis creates the classic slice with her Pizza With Fresh Tomatoes and Basil recipe.
Rachael Ray makes a Wingless Buffalo Chicken Pizza (pictured above) that packs all of the heat of the finger-licking favorite. Her Mega Meatball Pizza, on the other hand, has more of that Italian flair.
Sandra Lee's BBQ Chicken Pizza puts store-bought chicken tenders, shredded Gouda and barbecue sauce to use. On a smaller note, Pizza Pockets come loaded with turkey sausage and arugula and trade the usual large triangle for a dish perfect for parties.
If you're looking to make dough from scratch, use Tyler Florence's Pizza Dough recipe as your guide.
For more recipes and tips, check out Food Network Magazine's take on 50 Easy Pizzas.
More pizza recipes from family and friends:
Jeanette's Healthy Living: Gluten-Free Grain-Free Mini Pizza Faces
Feed Me Phoebe: Deep-Dish Polenta Pizza With Onions and Pesto
Cooking With Elise: Chicago-Style Deep-Dish Pizza
Haute Apple Pie: Honey, Gouda and Goat Cheese Pizza
What's Gaby Cooking: Loaded Veggie and Prosciutto Pizza
Sweet Life Bake: Mexican Pizza – Tlayuda con Chorizo y Frijoles
Devour: Unexpected but Delicious Pizza Toppings
Virtually Homemade: Mashed Potato Bacon Pizza
The Cultural Dish: Pizza Pizza Pizza! Three Delicious Variations
Thursday Night Dinner: Beet and Goat Cheese Pizza
The Heritage Cook: Gluten-Free Pizza Focaccia
FN Dish: As Quick as Delivery Pizza Recipes
More posts from Allison Milam.
Similar Posts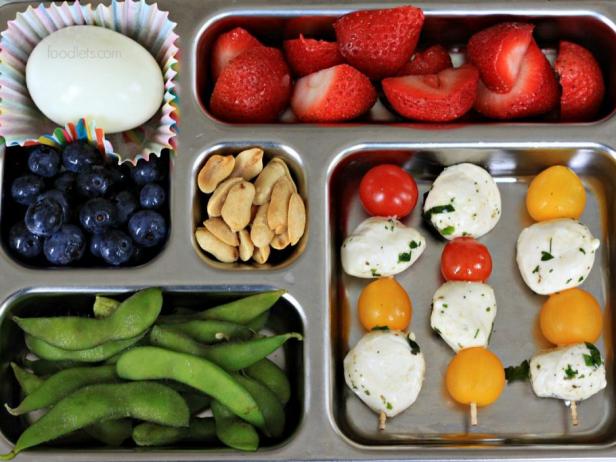 One mom shares her go-to trick for less-hectic weekday mornings....