FN Dish is counting down to the season 2 premiere of Rachael vs. Guy: Celebrity Cook-Off by introducing a new celebrity contestant every day. The competition tests the celebrities to see who has the culinary chops to win the title of champion and guarantees a $50,000 donation to the winner's charity of choice. Watch the premiere on Sunday, January 6, at 9pm/8c and keep coming back to FN Dish for exclusive interviews and behind-the-scenes previews.
Figure skater Johnny Weir is a three-time U.S. National Champion, two-time Olympian and World medalist. But when he's not on the ice, Johnny loves to entertain, often serving a unique combination of foods including veggie sticks, cheese, crackers, candy and wine. Get to know Johnny better from his Q&A with FN Dish.
The two words that best describe your cooking style are…
Johnny Weir: Clean and pretty
What's your earliest food memory?
JW: I grew up in Lancaster County, Pa., and we have arguably the best produce in the world. I remember waking up to fresh tomatoes and pickles, lightly salted and peppered, every summer morning, compliments of my Papa.
What's the best meal you ever ate?
JW: Full Russian table, eight courses, at the very exclusive Artists Club in Moscow: pickles, ice-cold vodka, black caviar on blini, filet mignon, salads of all colors, pelmeni, piroshki, chebureki — divine.
Going into Rachael vs. Guy, who did you think was going to be your biggest competition?
JW: Whatever I was cooking! Cooking and I haven't always seen eye to eye. In human form, definitely Dean. He's the Gourmet Dad.
Favorite pizza topping?
JW: Frisee and other baby greens
Who is your favorite food TV personality, past or present?
JW: Julia Child. The accent, the overzealous use of butter and the uncanny ability to make it all look effortless.
What food will we never catch you eating?
JW: Hungry-Man dinners.
What's your signature party dish?
JW: Crudites, Brie and crackers, Haribo and See's Candies. My parties usually center more around the wine than the food.
Sweet tooth, salt tooth or both?
JW: Sweet tooth, always. Bring on the sugar!
What kitchen tool can't you live without?
JW: A whisk. It makes me feel fancy.
What's the most surprising thing we'd find in your fridge?
JW: Skin cream
What music do you like to listen to in the kitchen?
JW: Classical or oldies. Cooking is oddly soothing at times and my Tchaikovsky and Motown help enhance my mood.
Johnny is playing for the Human Rights Campaign.
Meet the rest of the celebrities:
Chilli
Cornelia Guest
Gilbert Gottfried
Dean McDermott
Kathy Najimy
Hines Ward
Carnie Wilson
More posts from Joseph Erdos.
Similar Posts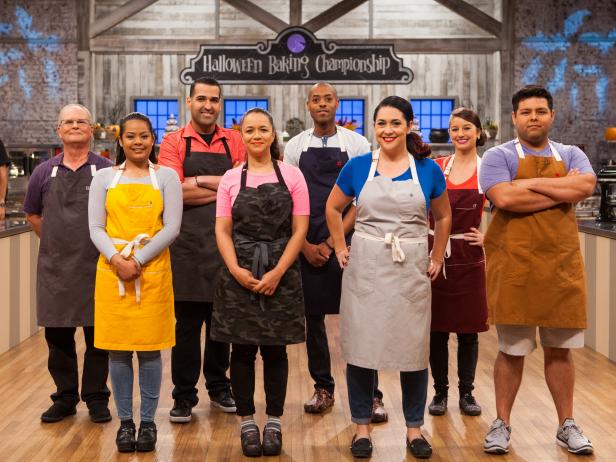 Get the details on the all-new season of Halloween Baking Championship, premiering on Sunday, Sept. 25 at 9|8c....