FN Dish is counting down to the season 2 premiere of Rachael vs. Guy: Celebrity Cook-Off by introducing a new celebrity contestant every day. The competition tests the celebrities to see who has the culinary chops to win the title of champion and guarantees a $50,000 donation to the winner's charity of choice. Watch the premiere on Sunday, January 6, at 9pm/8c and keep coming back to FN Dish for exclusive interviews and behind-the-scenes previews.
Actor and stand-up comedian Gilbert Gottfried is most recognizable for lending his voice to characters in animated movies and commercials, such as Iago in Aladdin and the Aflac duck. His earliest food memory involves a lamb chop, but it's not what you would think. Get to know Gilbert from his Q&A with FN Dish.
What's your earliest food memory?
Gilbert Gottfried: Being chased down the street by an angry lamb chop
What's the best meal you ever ate?
GG: Anything that someone else paid for
Going into Rachael vs. Guy, who did you think was going to be your biggest competition?
GG: All of them
Favorite pizza topping?
GG: That depends — is the topping extra?
Who is your favorite food TV personality, past or present?
GG: Any one of them that would come to my house and cook me a meal, I will gladly mention.
What food will we never catch you eating?
GG: Fried scorpion, although I like to use their tails to pick my teeth with
What's your signature party dish?
GG: I don't use my dishes during parties. I bring out the paper plates.
Sweet tooth, salt tooth or both?
GG: Abscess
What kitchen tool can't you live without?
GG: Screwdriver
What's the most surprising thing we'd find in your fridge?
GG: Jimmy Hoffa
What music do you like to listen to in the kitchen?
GG: The dinging of the microwave — it's fun to dance to
Gilbert is playing for The Gift of Laughter: The Friars Foundation Wounded Warriors Program.
Meet the rest of the celebrities:
Chilli
Cornelia Guest
Dean McDermott
Kathy Najimy
Hines Ward
Carnie Wilson
Johnny Weir
More posts from Joseph Erdos.
Similar Posts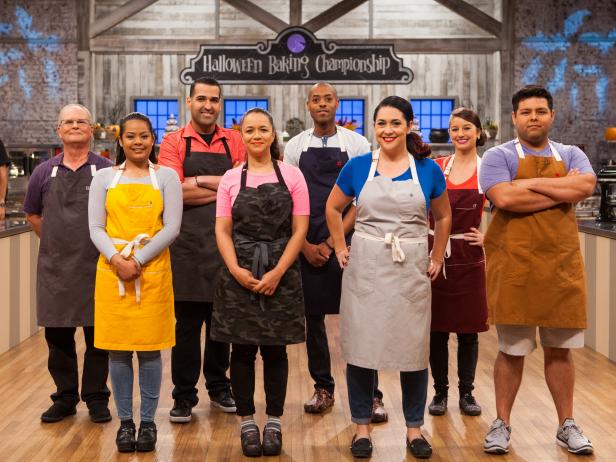 Get the details on the all-new season of Halloween Baking Championship, premiering on Sunday, Sept. 25 at 9|8c....