FN Dish is counting down to the season 2 premiere of Rachael vs. Guy: Celebrity Cook-Off by introducing a new celebrity contestant every day. The competition tests the celebrities to see who has the culinary chops to win the title of champion and guarantees a $50,000 donation to the winner's charity of choice. Watch the premiere on Sunday, January 6, at 9pm/8c and keep coming back to FN Dish for exclusive interviews and behind-the-scenes previews.
Cornelia Guest is a designer, author and philanthropist who rose to celebrity status as a socialite in the 1980s. You'd think a socialite would never set foot in any kitchen, but Cornelia loves to cook vegetarian food and even caters events. Get to know Cornelia better from her Q&A with FN Dish.
The two words that best describe your cooking style are…
Cornelia Guest: Cruelty-free
What's your earliest food memory?
CG: Ham sandwiches
What's the best meal you ever ate?
CG: Truffle pasta
Going into Rachael vs. Guy, who did you think was going to be your biggest competition?
CG: Dean McDermott
Favorite pizza topping?
CG: A pesto sauce
Who is your favorite food TV personality, past or present?
CG: Guy and Rachael…that's a no-brainer! Then Two Fat Ladies — they were a scream!
What food will we never catch you eating?
CG: Meat
What's your signature party dish?
CG: My chocolate chip cookies (Cornelia Guest Cruelty-Free Cookies)
Sweet tooth, salt tooth or both?
CG: Sweet!
What kitchen tool can't you live without?
CG: A knife
What's the most surprising thing we'd find in your fridge?
CG: Raw chocolate
What music do you like to listen to in the kitchen?
CG: All music — if I'm cooking, I'm dancing and smiling!
Cornelia is playing for The Humane Society of New York.
Meet the rest of the celebrities:
Chilli
Gilbert Gottfried
Dean McDermott
Kathy Najimy
Hines Ward
Carnie Wilson
Johnny Weir
More posts from Joseph Erdos.
Similar Posts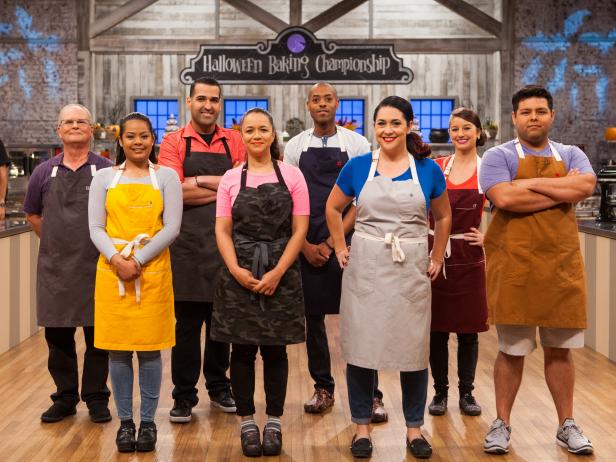 Get the details on the all-new season of Halloween Baking Championship, premiering on Sunday, Sept. 25 at 9|8c....