Whenever we dip fries in ketchup, spoon gravy over mashed potatoes or savor an egg with a side of home fries, the good ole potato is doing what it does best. As the foundation of our most loved sides, it comforts us to our very core. That's why in this second week of frosty January, we're moving down the line of our favorites potato recipes, from mashed to pancaked.
Is it a holiday? Steak night? You can bet a mound of Velvety Mashed Potatoes will be in attendance. For those who yearn for more structure, Baked Mashed Potatoes with Parmesan cheese and breadcrumbs go in the oven until golden brown.
A burger has never seen a day without fries. Guy Fieri's golden Double-Fried French Fries (pictured above) are everything you'd ever want in a fry, while Tyler Florence's Oven Fries are baked in lieu of visiting the fryer.
Bathed in cream and cheese, scalloped potatoes are at the peak of spud sin. Tyler's Scalloped Potato Gratin relies on Parmesan, while Food Network Magazine's Simple Scalloped Potatoes are all about gruyere. For a helping of Low-Fat Scalloped Potatoes, Food Network Magazine has your back too.
The seven days of Hanukkah may be kaput, but that doesn't mean Potato Pancakes can't make our list. If you're going traditional, don these with applesauce or sour cream.
Potatoes can go alongside anything from a filet mignon to a PB & J. As the most casual potato side of all, Homemade Potato Chips hold the crown.
More potato recipes from family and friends:
Jeanette's Healthy Living: Grilled Smashed Baby Potatoes With Green Harissa Sauce
Devour: 5 Ways to Cook Potatoes
Haute Apple Pie: Twice-Baked Southwestern Sweet Potatoes
Napa Farmhouse 1885: Healthy Warm Potato Salad With Onion and Vinegar
Red or Green?: Spicy Baked Sweet Potatoes
And Love It Too: Sweet Potato Hasselback Potatoes
Virtually Homemade: Twice-Baked Potatoes With Cheddar and Caramelized Onions
Big Girls, Small Kitchen: Crispy Potatoes With Baked Eggs and Pesto Yogurt
Cooking With Elise: Vavos Stewed Potatoes
The Heritage Cook: Potato and Sweet Potato Gratin With Bourbon-Laced Cream Sauce
The Cultural Dish: Garlic and Rosemary Roasted Potatoes
Thursday Night Dinner: If You Need Me, I'll Be With My Potato Soup
Feed Me Phoebe: Baked Sweet Potato Fries With Rosemary
Add a Pinch: Loaded Smashed Potatoes
From My Corner of Saratoga: Garlic and Herb Infused Cheesy Potatoes
More posts from Allison Milam.
Similar Posts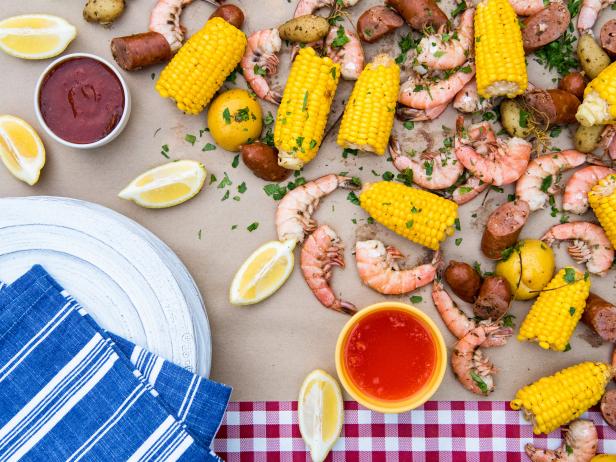 Have friends over — or embrace leftovers — with these Food Network recipes that feed more than four. ...