When the 6:00 p.m. dinner rush hits, reach for a tried-and-true staple that you know will win over even the pickiest eaters in your family: chicken. Quick cooking and cost effective, chicken is a blank culinary canvas through which you can showcase bold flavors and textures and experiment with new ingredients and creative cooking techniques. Check out Food Network's top five easy chicken recipes below, each a flavorful meal that can be made in 35 minutes or fewer.
5. Chicken Piccata With Lemon and Capers — A complete, all-in-one supper, this hearty plate boasts tender chicken topped with a light, tangy white wine sauce and a simple side of rice studded with lima beans.
4. Chicken Tortilla Soup — Juicy chunks of lean chicken breast are the star of this Mexican-inspired recipe, which is laced with lime juice and brimming with Monterrey cheese, creamy avocado and crunchy tortilla chips.
3. Chicken Cutlets With Orange and Arugula — The secret to Rachael's crispy-crust chicken is the three-step process she uses to coat each pounded-out piece. First she dredges the chicken in flour, then dunks it in an egg bath before finishing it with a cheesy breadcrumb topping.
2. Chicken Sausage Rigatoni in a Spicy Vodka Sauce (pictured above) — Sunny tames the heat of the jalapeno and Hungarian hot paprika in this vodka-spiked sauce with chicken sausage by adding a splash of cool heavy cream before tossing in the noodles and mixing in grated Asiago cheese.
1. Pat's Broccoli and Chicken Stir-Fry — In just 20 quick minutes, Pat Neely combines soy sauce, orange juice and rice wine vinegar to create an Asian-inspired sauce that turns deliciously thick as it's sauteed with juicy chicken thighs and fresh, vibrant broccoli. Watch Pat and Gina make this dish in the video below.
More posts from Maria Russo.
Similar Posts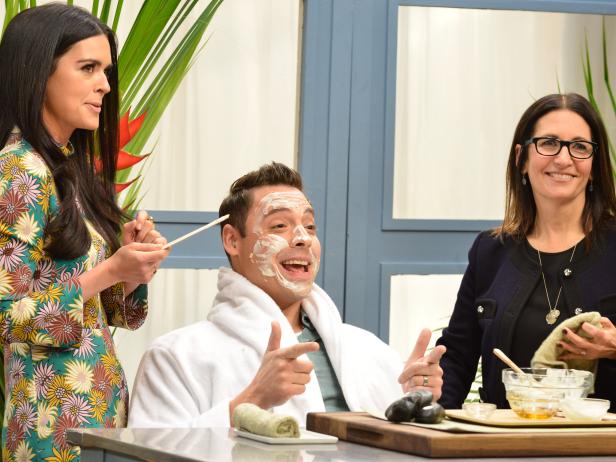 You don't have to travel somewhere exotic to make the most of your time off....