This weekend it's all about cooking classic recipes with a twist, budget-friendly ideas and hard-core competition on Food Network.
On Saturday, both Paula Deen and Trisha Yearwood have a few Southern classics to share with friends and family. On Barefoot Contessa, Ina's still on vacation in California and she's meeting up with Tyler Florence for a date, then it's off to a picnic with Jeffrey. On Giada at Home, Giada's sharing her budgeting tips for making three meals out of one chicken.
Start Sunday morning off with a Cuban feast on Guy's Big Bite. In the evening it's off to the diner on Rachael vs. Guy: Celebrity Cook-Off followed by an international battle on Iron Chef America.
Paula's Best Dishes: "Reinventing Southern Favorites"
Country singer Kimberly Schlapman of Little Big Town joins Paula in the kitchen to work on reinventing some of their favorite Southern recipes. They make Chicken Pot Pie With Cheese Straw Crust, Kimberly's Fried Green Tomatoes With Balsamic Vinaigrette Dressing and Strawberry Basil Lemonade.
Tune in: Saturday, January 19 at 9:30am/8:30c
Trisha's Southern Kitchen: "Family Fish Fry"
Trisha hosts her entire family for a backyard fish fry, a classic Southern event. The cornerstone of Trisha's menu is Pete's Catfish, which wouldn't be complete without a whole lot of sides including Mama's Cornmeal Hushpuppies, Home-Style French Fries and Fourth of July Coleslaw. To finish off the meal, everyone enjoys a classic dessert of Peach Cobbler With Homemade Whipped Cream.
Tune in: Saturday, January 19 at 10:30am/9:30c
Barefoot Contessa: "Good Stuff"
Ina and Jeffrey are still on vacation in California and Ina's got a fun day ahead of her. For an alfresco lunch, Ina's making Roasted Asparagus and Prosciutto. Later in the day she has a date with Tyler Florence, who's showing her his secret for making a perfect steak. Then Ina's off to San Francisco to shop for all the ingredients she needs for a sunset picnic with Jeffrey.
Tune in: Saturday, January 19 at 11am/10c
Giada at Home: "Chicken Three Ways"
Giada shows you how to turn one chicken into three budget-friendly dishes that you can enjoy any night of the week. Her recipes include Garlic-Roasted Chicken and Root Vegetables, Risotto With Bacon and Kale, Curried Chicken and Apple Wraps and Salad With Roasted Root Vegetable Vinaigrette.
Tune in: Saturday, January 19 at 11:30am/10:30c
Guy's Big Bite: "Craving Cuban"
Guy is preparing a Cuban feast for his friends. The star dish of the table is Mojo Cuban Sandwiches, piled full of roast pork, sliced ham, Swiss cheese, pickles and Dijon mustard. On the side, Guy has Caesar Salad With Homemade Dressing, made with fresh eggs from his chicken coop. And to drink there's Havana "Fresca" Mango Daiquiris, packed with fresh fruit.
Tune in: Sunday, January 20 at 10:30am/9:30c
Rachael vs. Guy: Celebrity Cook-Off: "Bright Lights, Big Classics"
For their next challenge, the celebrity teams take over Mel's Drive-In on Sunset Boulevard. They must reinvent three classic diner sandwiches and serve the customers. The diners will get to vote on which team wins the challenge. In the end, the bottom two contestants from the losing team must face off in a blind-tasting challenge to determine who is eliminated.
Tune in: Sunday, January 20 at 9pm/8c
Iron Chef America: "Forgione vs. Kittichai"
It's Iron Chef America vs. Iron Chef Thailand in this international competition between Iron Chef Forgione and Iron Chef Kittichai, who is back for redemption after having lost to Iron Chef Batali in Battle Lentils. Judges are Judy Joo, Martin Yan and Eden Grinshpan.
Tune in: Sunday, January 20 at 11pm/10c
More posts from Joseph Erdos.
Similar Posts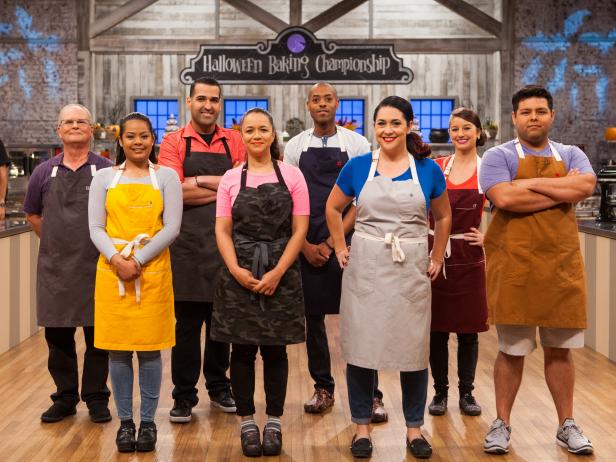 Get the details on the all-new season of Halloween Baking Championship, premiering on Sunday, Sept. 25 at 9|8c....