To you, broccoli is a vegetable. To your kids — and antibroccoli peers — it's nothing but a no-go. But let's be real, are we surprised that so many broccoli aversions exist? When soggy steamed broccoli is the go-to move on many dinner tables, it's a no-brainer. It takes more than a simple steaming for its true colors to come through. And now that it's in season, you can get your serving of better-than-ever broccoli by bringing it into your main courses.
Food Network Magazine's Chinese Beef With Broccoli, complete with oyster sauce and white rice, takes the takeout to your stovetop. Their Bacon and Broccoli Rice Bowl has a few twists, packing fresh cilantro, pickled jalapenos and, yes, bacon into an Asian-style dish.
For a Tupperware-bound lunch, cook up a cold Chicken, Broccoli and Cherry Tomato Fusilli. And, if we're still talking pasta, check out Food Network Magazine's Pasta With Roasted Broccoli and Almond-Tomato Sauce (pictured above).
Lastly, here's the soup lineup from Food Network Magazine. Broccoli Chowder With Cheddar Toasts is ideal if you're looking for a soup with whole broccoli florets.
Or savor Almost-Famous Broccoli-Cheddar Soup in a sourdough bread bowl until you soak up the last drop.
More broccoli recipes from family and friends:
Jeanette's Healthy Living: Easy Stir-Fry Broccoli and Red Bell Peppers
Napa Farmhouse 1885: Pasta With Fresh Broccoli and Spicy Cashew Pesto
Red or Green?: Broccoli With Garlic and Chile, Puglian-Style
HGTV Gardens: Garden-to-Table: Broccoli
Virtually Homemade: Broccolini With Walnuts and Sweet Soy Sauce
Thursday Night Dinner: Soy, Sesame and Ginger Broccoli
FN Dish: Six Broccoli Mains
More posts from Allison Milam.
Similar Posts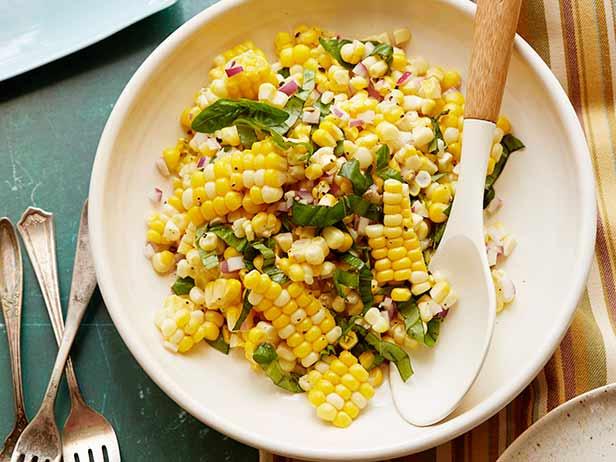 Think beyond the usual presentation of corn with butter and salt....