Canned foods: the pantry staple that everyone loves to hate. Professional chefs tend to stay away from these packaged, preserved goodies since fresh is always best, so last Sunday when the Chairman presented the Next Iron Chef: Redemption rivals with an altar of canned meats and seafood, they were anything but excited. Although all of the rivals ultimately rose to the occasion, Chef Spike Mendelsohn's and Chef Marcel Vigneron's dishes left something to be desired, and their canned Vienna sausage – and clam-inspired offerings, respectively, were deemed the weakest of the day.
In this week's installment of Rival Recipes, we're giving Chef Spike a chance to redeem himself with perhaps the most-popular canned ingredient: tomatoes. Like in the Chairman's Challenge, he and his cook-off competitor, Chef Elizabeth Falkner, must look beyond tomatoes as they are in the can and imagine them as something greater, the star of a refined dish.
Chef Spike lets canned tomato sauce shine in his hearty, comforting, all-American Uncle D's Chili, named after his Uncle Denny, while Chef Elizabeth pairs canned San Marzano tomatoes with Italian flavors in her Minestrone soup. Both bowls are packed with fill-you-up beans and bold spices, but Chef Spike's is packed with beefy meat, bell peppers and barbecue sauce and Chef Elizabeth's is vegetarian, filled instead with celery, carrots and haricots verts.
The choice of winner comes down to you, fans. Whose canned tomato-based recipe reigns supreme? Are you a fan of Chef Spike's thick, Cheddar cheese-topped chili, or do you prefer Chef Elizabeth's lighter soup, finished with Pecorino Romano cheese? Cast your vote below, and don't miss an all-new episode of The Next Iron Chef: Redemption on Sunday at 9pm/8c.
See below for detailed recipes from both chefs and to purchase their cookbooks.
Uncle D's Chili
Serves 4
32 ounces ground beef
2 tablespoons canola oil
1 cup diced red onion
1 green bell pepper, seeded and diced
1 16-ounce can kidney beans, drained and rinsed
1 tablespoon ground cumin
2 tablespoons Hungarian paprika
1 tablespoon chili powder
1 tablespoon freshly ground black pepper
1 32-ounce can tomato sauce
1 cup Chipotle-Barbecue Sauce*
Sea salt
1/2 cup Cheddar Cheese Sauce*
1/2 cup sour cream
Heat the beef in a large skillet over medium heat. Cook, stirring and breaking it up, until browned. Drain off the fat. Heat the oil in another large skillet over medium-low heat. Add the onion and green pepper and cook, stirring, until softened and the onion is translucent, about 10 minutes. Add the beans, cumin, paprika, chili powder and black pepper. Increase the heat to medium and cook, stirring, until the mixture is fragrant, about 4 minutes.
Add the browned beef and continue cooking and stirring until well mixed. Add the tomato sauce and 1 cup of water, and reduce the heat to medium-low. Cook, stirring occasionally, until the mixture thickens, about 1 hour. Stir in the Chipotle-Barbecue Sauce and season with salt. Top each serving with a tablespoon of Cheddar Cheese Sauce and sour cream. Serve immediately.
*Recipes can be found in Chef Mendelsohn's cookbook, The Good Stuff Cookbook: Burgers, Fries, Shakes, Wedges and More.
Recipe courtesy Spike Mendelsohn With Micheline Mendelsohn, The Good Stuff Cookbook: Burgers, Fries, Shakes, Wedges and More
Minestrone
Serves 2 to 4
4 ounces dried cannellini, kidney, or navy beans, or 1 cup canned, drained and rinsed
2 tablespoons olive oil
1 yellow onion, cut into medium dice
1 carrot, cut into medium dice
2 ribs celery, cut into medium dice
3 cloves garlic, thinly sliced
1 Fresno chile, halved, seeded and finely chopped, or 1/4 teaspoon red pepper flakes
2 teaspoons dried oregano
1/4 teaspoon pimentón dulce (mild Spanish paprika)
8 ounces canned (I prefer San Marzano) tomatoes
3 cups vegetable broth or Chicken Stock*
2 teaspoons salt
Freshly ground black pepper
1 cup haricots verts, stemmed and cut into 1/4-inch pieces, or 1/2 cup canned green beans, drained, and cut into 1/4-inch pieces
2 tablespoons chopped fresh Italian parsley
Pecorino Romano or Parmigiano-Reggiano cheese, for grating
Soak the dried beans in cold water overnight. Rinse and cook in 2 cups fresh water and 1/2 teaspoon salt in a saucepan over medium heat for about 30 minutes or until tender. Drain.
In a medium stockpot, add the olive oil over high heat. Add the onion, carrot and celery and sauté for 2 minutes. Decrease the heat to low.
Add the garlic, chile and oregano to the vegetable mixture. Add the pimentón and then the tomatoes. Add the stock, 2 teaspoons salt and a few cranks of pepper and bring to a simmer. Add the cannellini beans and simmer for 15 to 20 minutes. Add the haricots verts or green beans and season to taste. Simmer for another 5 minutes.
Serve immediately, garnished with the chopped Italian parsley and grated Pecorino or Parmesan.
*Recipe can be found in Chef Falkner's cookbook, Cooking Off the Clock: Recipes From My Downtime.
Recipe courtesy Elizabeth Falkner, Cooking Off the Clock: Recipes From My Downtime
More posts from Maria Russo.
Similar Posts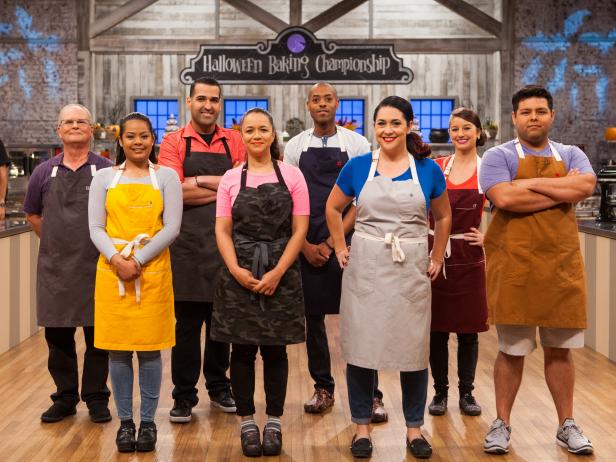 Get the details on the all-new season of Halloween Baking Championship, premiering on Sunday, Sept. 25 at 9|8c....