When it comes to New Year's Eve parties, there are often just two kinds of get-togethers: the casual bash complete with an expansive guest list, and the intimate, elegant event with just one special person or perhaps a small group of friends. When planning for the first gathering, think ease and simplicity, both in terms of food preparation for a crowd and also logistics like serving and plating different eats and drinks. For the dressed-up dinner party, look to elaborate yet accessible dishes to match the fancy flair of the event. We've rounded up Food Network's favorite party-ready menus to fit both kinds of celebrations, plus a collection of creative and classic cocktails alike that will help you ring in 2013. Check out our top New Year's Eve recipe ideas and effortless entertaining tips below, then tell us in the comments: How do you celebrate New Year's Eve?
No one wants to be stuck in the kitchen cooking while a mob of guests is mingling elsewhere, so when you're hosting a crowd, rely on hands-off recipes that can hold their own for a while and easy-to-eat munchies that guests can help themselves to. For a simple appetizer spread, Ingrid Hoffman sets up a help-yourself tray of Fried Olives (pictured above) with Spanish ham and manchego cheese that is quick to prepare and easy to replenish as the night goes on. For something heartier, try Food Network Magazine's top-rated Lamb Meatball Sliders, made with a homemade tomato sauce and finished with a creamy spread of goat and mascarpone cheeses. Since they're smaller than classic burgers, these sliders are easy to eat, and they turn out moist and tender every time. As a sinfully sweet midnight snack, serve Food Network Magazine's Whoopie Pies, another eat-with-your-hands treat that can be prepped ahead of time. These no-fail beauties are instant crowd-pleasers, featuring fluffy, chocolate cakelike cookies and a filling of melted marshmallows.
If you're cooking for just a handful of guests, consider preparing a more extravagant, sit-down meal to enjoy with close company. Giada's five-star Crostini Alla Romana is a sophisticated appetizer that's deceptively simple to prepare with just five ingredients. She tops toasted slices of bread with salty prosciutto and creamy mozzarella cheese, bakes them until the cheese is melted and finishes each with fragrant sage butter. For an extra special entree, cook up Food Network Kitchens' Filet Mignon With Mustard Cream and Wild Mushrooms (pictured left), a deliciously classic, meaty meal. Ina dresses up a tried-and-true classic for dessert with her Salted Caramel Brownies from Food Network Magazine — fudgy, buttery bites made with both semisweet and bittersweet chocolate, plus golden caramel and flaked sea salt. When shopping for ingredients, Ina recommends picking up true caramel sauce instead of dulce de leche, which can be too milky.
No matter which kind of party you host, a few classic and creative cocktails will help to round out your menu. In addition to must-have bottles of bubbly Champagne, Food Network's collection of easy-to-mix retro cocktails will complete the drink scene at any get-together. This guide features sippers inspired by each decade in the past 60 years, so as you prepare to ring in 2013, raise a glass to days gone by with a cucumber-laced Mama's Little Helper or Peach Cosmo with cranberry juice (pictured right) inspired by 1979 and 1999, respectively.
Visit Food Network's Holiday Central to find more New Year's recipes and entertaining tips.
More posts from Maria Russo.
Similar Posts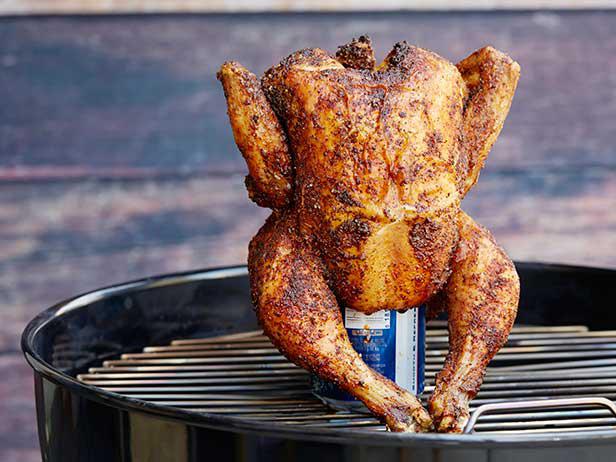 This clever grilling technique is easy enough to perfect even on your first try making it....