FN Dish is counting down to the season 2 premiere of Rachael vs. Guy: Celebrity Cook-Off by introducing a new celebrity contestant every day. The competition tests the celebrities to see who has the culinary chops to win the title of champion and guarantees a $50,000 donation to the winner's charity of choice. Watch the premiere on Sunday, January 6, at 9pm/8c and keep coming back to FN Dish for exclusive interviews and behind-the-scenes previews.
TV and movie actor Dean McDermott is best known for appearing alongside his wife, Tori Spelling, in their reality show. But acting aside, Dean may have an upper hand in the competition because he's been attending culinary school. Get to know Dean better from his Q&A with FN Dish.
The two words that best describe your cooking style are…
Dean McDermott: The two words to describe my cooking style are fresh and local. I'm part of the locavore movement and love knowing where my food comes from. I'm into simple ingredients and pulling big flavor out of them. My Dad always told me to "keep it simple, Stupid."
What's your earliest food memory?
DM: My first cooking memory was when I was about 7 years old. My Mom and I would make box cakes together. I'd always love licking the spoon, and when the cake was done, we'd sit and watch The Carol Burnett Show and stuff our faces.
What's the best meal you ever ate?
DM: The best meal I ever ate was at Mario Batali's restaurant in Las Vegas. We had an 8-month-aged steak. It was so dense and delicious. The meat on the outside was so dark, and when you sliced it open the flesh was a deep purple color. It tasted like truffles. It was amazing. I lost a thousand dollars gambling that night, but I had an amazing meal.
Going into Rachael vs. Guy, who did you think was going to be your biggest competition?
DM: Going into Rachael vs. Guy, I thought my biggest competition would be Carnie Wilson. I know Carnie, and she is a great cook — funny as hell and a great cook. The first day on set, she brought these amazing brownies. I knew I was in trouble when I ate about 10 of them.
Favorite pizza topping?
DM: My favorite pizza topping is Italian sausage. You can't have pizza without a little swine. Oh, and a nice glass of wine. Swine and wine are my yin and yang.
What food will we never catch you eating?
DM: You will never catch me eating liver. My mom used to make me eat overcooked liver, and I used to drown it in ketchup to help choke it down. However, once a year I try liver in the hopes my palate has changed. So far, no luck. I despise it.
What's your signature party dish?
DM: My favorite party dish I make is blanched asparagus with a miso-ginger dip and toasted sesame seeds. You dip the asparagus in the miso-ginger, then in the toasted sesame seeds. It's a great interactive dish.
Sweet tooth, salt tooth or both?
DM: I'm a total sweet junky. I love any kind of sweet. Being a Scotsman, I love caramel and butterscotch. Add a dash of salt…magic.
What's the most surprising thing we'd find in your fridge?
DM: The most surprising thing you'd find in my fridge is a huge chunk of beef fat. I love cooking with it, or using it in my hamburger or sausage grind. I love being able to control the fat ratio in my burgers and sausages. Fat is flavor, so I'm a bit heavy-handed.
What music do you like to listen to in the kitchen?
DM: The music I like to listen to while I cook is obscure. I love Neil Young, Guns N' Roses and Tony Bennett. If I have a lot of chopping to do, I put on some Jane's Addiction. Good edgy, alternative music.
Dean is playing for Miracle Babies.
Meet the rest of the celebrities:
Chilli
Cornelia Guest
Gilbert Gottfried
Kathy Najimy
Hines Ward
Carnie Wilson
Johnny Weir
More posts from Joseph Erdos.
Similar Posts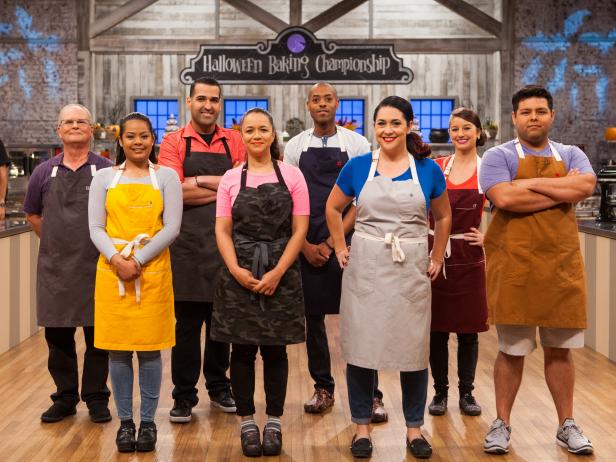 Get the details on the all-new season of Halloween Baking Championship, premiering on Sunday, Sept. 25 at 9|8c....