FN Dish is counting down to the season 2 premiere of Rachael vs. Guy: Celebrity Cook-Off by introducing a new celebrity contestant every day. The competition tests the celebrities to see who has the culinary chops to win the title of champion and guarantees a $50,000 donation to the winner's charity of choice. Watch the premiere on Sunday, January 6, at 9pm/8c and keep coming back to FN Dish for exclusive interviews and behind-the-scenes previews.
Singer and TV host Carnie Wilson is best known as a member of the pop music group Wilson Phillips. But when she's not recording music, she's in the kitchen cooking comfort food like her mac and cheese and turkey chili. Get to know Carnie better from her Q&A with FN Dish.
The two words that best describe your cooking style are…
Carnie Wilson: Low-key and comforting
What's your earliest food memory?
CW: Eating the butter-drenched green beans at my school cafeteria in kindergarten
What's the best meal you ever ate?
CW: When I had an authentic Cajun five-course meal cooked by the king himself, Emeril Lagasse — it made me actually question whether food or sex is better
Going into Rachael vs. Guy, who did you think was going to be your biggest competition?
CW: When I saw Dean and Chilli I thought, "Oh, this is going to be harder than I thought! Start thinking of recipes right now!"
Favorite pizza topping?
CW: I adore extra cheese, tomatoes and basil…. Pizza Margherita is the best.
Who is your favorite food TV personality, past or present?
CW: Paula makes me feel pure joy and I want to squeeze her, Giada makes me want to run into the kitchen and start cooking, and Ina basically rules the universe.
What food will we never catch you eating?
CW: Liver, sweetbreads or caviar: I actually start shaking at the thought. Yuck!
What's your signature party dish?
CW: My mac and cheese and my turkey chili
Sweet tooth, salt tooth or both?
CW: Please, do you even need to ask? BOTH!
What kitchen tool can't you live without?
CW: My hand-held mixer
What's the most surprising thing we'd find in your fridge?
CW: Vegenaise; I actually prefer it to mayonnaise
What music do you like to listen to in the kitchen?
CW: Earth, Wind & Fire, Little River Band or Heart
Carnie is playing for the Autism Research Institute.
Meet the rest of the celebrities:
Chilli
Cornelia Guest
Gilbert Gottfried
Dean McDermott
Kathy Najimy
Hines Ward
Johnny Weir
More posts from Joseph Erdos.
Similar Posts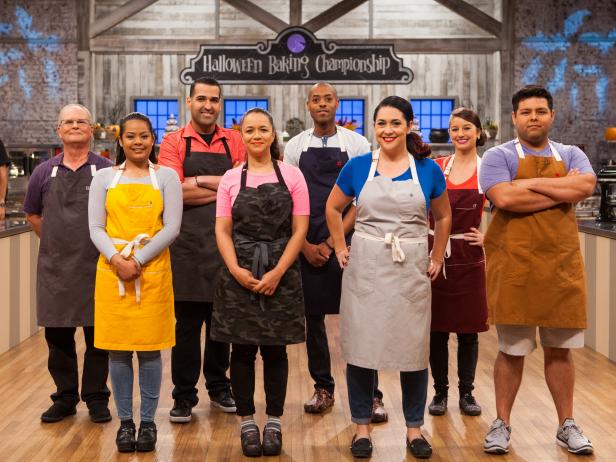 Get the details on the all-new season of Halloween Baking Championship, premiering on Sunday, Sept. 25 at 9|8c....