It's no surprise that between shopping for dinner parties, holiday open houses, tree trimmings, decorations and, of course, presents, it can be easy to rack up a hefty spending bill as you celebrate the season of giving. This year, as you shop for close family members, distant relatives and relative strangers alike, let Food Network's holiday gift guides rescue your wallet from the seasonal pinch. You've heard it before: It's not the amount of money you spend on a gift but the thought you put into it that counts. Food Network's collection of both quirky and classic items makes it easy to find presents that are both inexpensive and full of heart for everyone on your list. Check out a few of our favorite gifts below, then browse our entire collection of goodies in our gift guides, organized into two price increments: those less than $20 and those less than $50. Tell us in the comments below: What's the best, most inexpensive gift you've ever given?
Being a perfect party guest — and ensuring you earn another invitation next year — usually requires that you bring a gift for the host or hostess, a small token of your appreciation of their hard work and hospitality during the party. The vintage cake server ($15, pictured left) is a fail-safe item to give a party-thrower since you can be pretty sure that they enjoy entertaining. The "keep calm" napkins ($29.95, pictured above) are a go-to gift if you'd prefer to spend a bit more. They're sold in packs of 100 and are imprinted with holiday sayings.
For the pizza aficionado on your list, look no further than a monkey-topped pizza peddler ($20) and Pizzacraft grilled pizza cones ($18.99, pictured right). Given together or separately, these clever gifts will make it easy for the home cook to turn out parlor-style pies in a flash. Foodies in general, however, will be wowed by a bread-decorated baguette knife ($30) or avocado and tomato tea towels ($12 each). Bright and colorful, these ingredient-inspired designs will add eccentric flair to any home kitchen.
Perhaps the most difficult people to shop for are those who claim to have everything already. Cookbooks, check. Wine glass
charms, check. Santa-shaped cheese knives, check. For these tricky recipients, pick up heatproof silicone grips ($10, pictured left) or a fantastic unplastic tray ($25.99). After all, we could all use another pot holder or serving piece, and these beauties are no-fail conversation starters.
For more low-cost gift ideas, check out Food Network's guides of Holiday Gifts Under $20 and Holiday Gifts Under $50 for plenty of present inspiration.
More posts from Maria Russo.
Similar Posts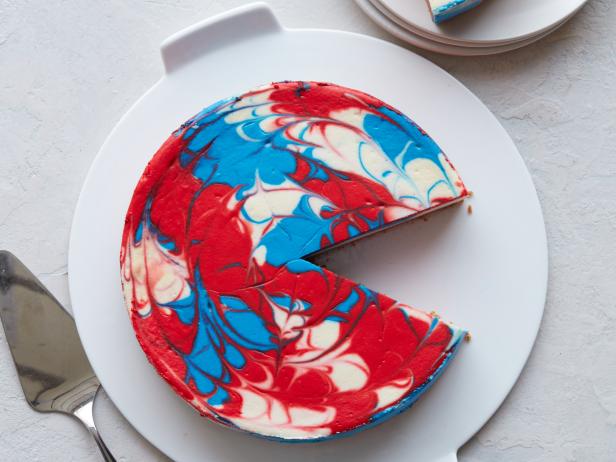 This week, our social feeds were inundated with red, white and blue....