Food Network stars reveal their favorite cookbooks. Give one (or all!) to the chef in your house.
ALTON'S PICK:
The Fireside Cook Book
Alton Brown's most beloved cookbook, written by James Beard, isn't about food science or crazy gadgets — it's an old-school American classic. "It's a clear portrait of American cuisine at its post World War II height, before the rise of California or fusion cuisine, or any cuisine for that matter," he says. $30, Simon & Schuster
MARC'S PICK:
The French Laundry Cookbook
Iron Chef Marc Forgione loves Thomas Keller's fine-dining bible as much for how it looks as for what it says. "When I first picked up this book, I realized I had never seen food look like that before," Marc says. "Reading Keller's stories about ingredients, purveyors and staff helped me confirm that I wanted to be a chef." $50, Artisan
ANNE'S PICK:
The Zuni Cafe Cookbook
Anne Burrell is an Italian chef by trade, but her favorite book is one that features casual Northern California cuisine. "I love the simplicity of this book, how Judy Rodgers wrote it, and the recipes," she says. "It is truly thoughtful."$40, W.W. Norton
MICHAEL'S PICK:
The Whole Beast: Nose to Tail Eating
Leave it to meat-obsessed Iron Chef Michael Symon to fall in love with a cookbook that celebrates every animal part: brains, blood and all. The book, by British chef Fergus Henderson, "has inspired me to always remember how important it is to think about animals as a whole and not just primal cuts of meat," he says. $20, Ecco
RON'S PICK:
The Cake Bible
Ron Ben-Israel calls author Rose Levy Beranbaum the Cake Prophet. "She has a scientific approach to baking, and her cakes always behave just like she wrote they would." $35, William Morrow
BOBBY'S PICK:
Joy of Cooking
Irma S. Rombauer's classic was the first cookbook Bobby Flay's dad gave him, when he was 18 years old, and it still sits on a shelf in Bobby's home kitchen. "It is still my go-to book when I want to make pancakes, waffles and biscuits or when I forget how many tablespoons are in a cup," he says. $35, Scribner
GEOFFREY'S PICK:
Seven Fires: Grilling the Argentine Way
Iron Chef Geoffrey Zakarian's favorite cookbook, by Francis Mallmann (one of South America's most famous chefs), is all about cooking over an open flame. "This book showcases the richness and depth of everything cooked over fire," he says. "I am so taken by the technique in this book that I can't stop telling every cook I meet about it." $35, Artisan
JOSE'S PICK:
Rick Bayless's Mexican Kitchen
When he first wanted to learn about Mexican food, Iron Chef Jose Garces turned to the man credited with bringing Mexican fine dining to America: Rick Bayless. "For cooking Mexican cuisine, Rick was my primary source," he says. $36, Scribner
TYLER'S PICK:
The Physiology of Taste
This 1825 French classic by Jean Anthelme Brillat-Savarin (translated into English in 1949 by legendary food writer M.F.K. Fisher) isn't a cookbook: Tyler Florence fell in love with it because it is one man's celebration of food and how to enjoy it. "It's just a brilliant book — a meditation on great flavor and great taste," he says. $16, Vintage
(Photograph by Ben Goldstein/Studio D.)
More posts from Food Network Magazine.
Similar Posts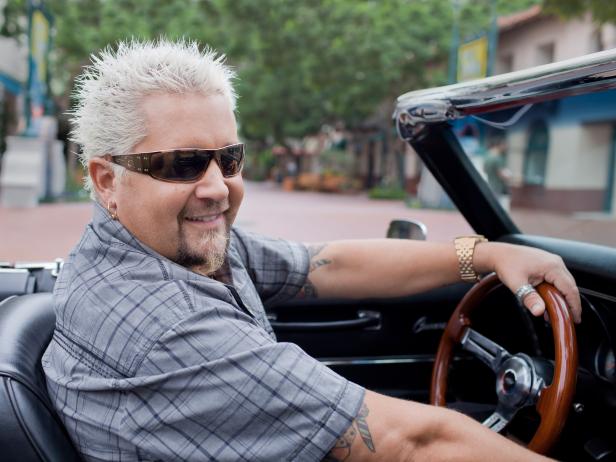 Get the first look at Guy Fieri's upcoming series, Guy's Family Road Trip....