In true finale form, last Sunday's eighth and final episode of The Next Iron Chef: Redemption featured no ordinary cook-off, but a next-level contest designed to celebrate current Iron Chefs and test the future Next Iron Chef. While most Kitchen Stadium competitors find themselves presented with a single Secret Ingredient, the top two rivals, Chefs Amanda Freitag and Alex Guarnaschelli, met an altar of more than 12 different ingredients inspired by the flavors of Southwest, Japanese and Mediterranean cuisines, and they had to cook with at least two offerings from each culinary category to honor long-standing Iron Chefs Bobby Flay, Masaharu Morimoto and Michael Symon. Although the rivals took different approaches to their appetizer and dessert offerings, their main dish presentations were strikingly similar, both showcasing juicy lamb loins as a sign of respect for Iron Chef Symon. The judges were impressed with both chefs' balanced, beautifully cooked entrees, but ultimately it was Chef Guarnaschelli who took home the coveted title of The Next Iron Chef.
In this final installment of Rival Recipes, two rivals eliminated early on — Chefs Duskie Estes and Eric Greenspan — have returned for a final chance at redemption. They, too, will battle it out with lamb, but unlike the finale rivals, they've prepared widely dissimilar dishes. Chef Estes has made an elegant, party-ready Lamb Shoulder With Saffron and Tomato Braised Chickpeas, a full-flavored dish featuring white wine and fresh fennel. Chef Greenspan's Lamb and Feta Grilled Cheese With Roasted Peppers and Olives, however, is a simple but bold recipe boasting Greek-inspired ingredients like pita bread, feta cheese and kalamata olives. Both chefs embrace the classic flavor of lamb, but Chef Estes puts the succulent shoulder to work in her entree, while Chef Greenspan uses the loin in his dish.
The vote is in your hands, fans. Would you prefer Chef Estes' dressed-up lamb preparation with a hearty side of spiced chickpeas, or do you appreciate the comfort of Chef Greenspan's buttery sandwich laced with roasted red peppers? Are you a fan of oversized cuts of lamb like the shoulder, or do you pick out smaller pieces like the loin? Vote for the winner below, and tune in this Sunday at 9pm/8c to watch Chef Guarnaschelli face off in Kitchen Stadium in her first battle as an Iron Chef.
See below for detailed recipes from both chefs.
Lamb Shoulder With Saffron and Tomato Braised Chickpeas
Serves 6
Lamb
6 tablespoons pure olive oil, divided
1 lamb shoulder
5 anchovies
2 garlic cloves, peeled
2 red onions, peeled and sliced
2 bulbs fennel, sliced
A pinch of chile flakes
2 cups white wine
To roast the lamb, preheat the oven to 350 degree F. Season the lamb with salt and pepper. In a large, ovenproof saute pan on medium-high heat with a few tablespoons of oil, sear the shoulder on all sides until browned. Dump out the oil and add a few new tablespoons along with the garlic, anchovies, fennel, onion and chile flakes. Saute until slightly browned, about 8 minutes. Return the shoulder to the pan. Add the white wine. Cover with foil and roast in oven until tender, about 3 hours.
Chickpeas
2 cups dried chickpeas, soaked overnight and drained
A pinch of saffron threads
3 tablespoons pure olive oil
2 yellow onions, diced
2 tablespoons fresh grated ginger
3 garlic cloves, thinly sliced
2 teaspoons ground cumin
2 teaspoons ground coriander
2 cinnamon sticks
A pinch of chile flakes
28-ounce can crushed tomatoes
Juice of 2 lemons
Fresh mint leaves for garnish
Feta cheese for garnish
To make the chickpeas, cover the chickpeas and saffron with 2 inches of water in a saucepan and bring to a boil. Reduce the heat to low and simmer until tender, about 45 minutes. In a large saute pan, saute the onion, ginger and garlic in the oil over medium heat until fragrant, about 8 minutes. Add the cumin, coriander, cinnamon sticks and chile flakes and saute for 2 minutes. Add the chickpeas and their water and the tomatoes. Simmer for 20 minutes and season to taste with salt, pepper and lemon juice. Add more water if necessary.
To plate, ladle the chickpeas into bowls and top with a tong of lamb. Garnish with fresh mint and feta.
Recipe courtesy Duskie Estes, www.zazurestaurant.com
Lamb and Feta Grilled Cheese With Roasted Peppers and Olives
4-ounce lamb loin
1 pita bread
1 cup feta cheese
1/4 red onion, thinly sliced
1/2 red pepper, roasted, peeled and julienned
1/4 cup kalamata olives, seeded and chopped
1/4 cup cleaned baby spinach
1/2 cup of butter
1 tablespoon oil
In a cast iron pan, heat a tablespoon of oil and brown the lamb loin on all sides. Place in a 350-degree F oven and cook until medium rare, approximately 7 minutes. Let rest for 5 minutes, then slice thin.
Slice the pita bread entirely open in half. Place one half of the bread inside part down. Cover with 1 cup of crumbled feta cheese. Add sliced red onion, olives, red peppers and baby spinach. Add three slices of lamb, then remaining feta cheese. Top the sandwich with the remaining half of pita, inside up.
Butter both sides of the sandwich. In a cast iron pan over medium heat, brown both sides until crispy and golden. Slice in half and serve.
Recipe courtesy Eric Greenspan, The Foundry on Melrose
More posts from Maria Russo.
Similar Posts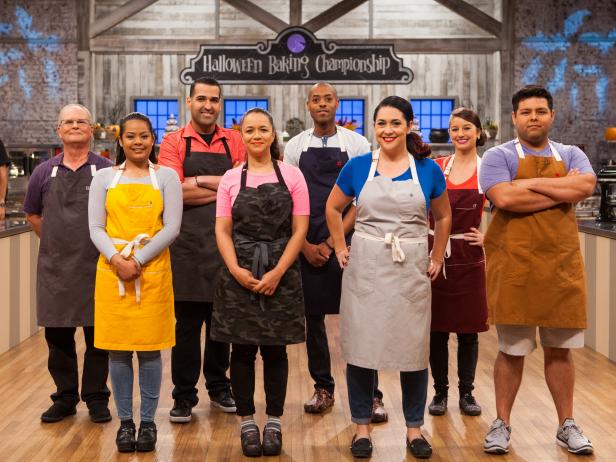 Get the details on the all-new season of Halloween Baking Championship, premiering on Sunday, Sept. 25 at 9|8c....