On last week's episode of The Next Iron Chef, rival chefs Spike Mendelsohn and Tim Love went head-to-head in the Secret Ingredient Showdown. They battled it out with pineapple, otherwise known as "the death fruit," according to Alton, since it's ousted all past Next Iron Chef finalists who've tried to feature this sweet, juicy fruit in a savory dish. Both chefs tempted fate by cooking decidedly savory dishes, and in the end, this cursed ingredient got the better of Chef Love. Chef Mendelsohn, however, claimed victory over his rival — and pineapple — with a savory seafood dish with pineapple and sweet and sour sauce.
This week's Rival Recipe matchup forces Chef Mendelsohn to once again bring his pineapple A-game, this time in a showdown against Chef Jehangir Mehta. Both rivals boast standout recipes for pineapple-focused fruit salads: Chef Mendelsohn a colorful Fresh Fruit Salad with red and green grapes, bright pineapple and fragrant mint, and Chef Mehta a refreshing Orange-Marcona Almond Salad With Pineapple Granita featuring juicy oranges, crunchy almonds and pineapple juice.
Now it's time for you, Next Iron Chef fans, to channel your inner Simon Majumdar, Donatella Arpaia and Iron Chef Zakarian and judge which fruit salad reigns supreme. Would you prefer the classic combination of fruit featured in Chef Mendelsohn's dish, or do you like the different textures that are offered in Chef Mehta's offering? The vote is in your hands. Tell us whose pineapple salad gets your pick.
See below for detailed recipes and to purchase the cookbooks.
Orange-Marcona Almond Salad With Pineapple Granita
Serves 4
1/3 cup sugar
2 cups pineapple juice
8 small navel oranges, peeled, segmented, seeded, and chilled (or any other variety of orange, such as a blood orange)
1 cup unsalted Marcona almonds
1 tablespoon almond oil
1/2 cup microherbs
For the pineapple granita, heat the sugar and 1 cup of the pineapple juice in a small saucepan until the sugar dissolves, stirring occasionally. Remove from the heat. Stir in the rest of the juice, and cool in an ice bath. Pour into a flat metal container such as a sheet tray, cover and freeze. Once it becomes solid, break it with a fork so that it becomes flaky. Re-cover and return to the freezer.
For the salad, in a large bowl, toss together the oranges with the almonds, almond oil and microherbs.
Serve on chilled plates with granita scattered around.
Recipe courtesy Mantra: The Rules of Indulgence by Jehangir Mehta With Christopher Kelly
Fresh Fruit Salad
Serves 4
2 cups seedless red grapes
2 cups seedless green grapes
2 cups diced Granny Smith apples
2 cups sliced kiwi
2 cups sliced banana
2 cups diced pineapple
1/2 cup Greek yogurt, or any thick, creamy, plain yogurt
4 tablespoons honey
1 cup chopped fresh mint
½ cup chopped fresh cilantro
Juice from 1 lemon
In a large bowl, combine the grapes, apple, kiwi, banana and pineapple. In another bowl, stir together the yogurt, honey, mint, cilantro and lemon juice until well combined. Pour over the fruit and gently toss without bruising the fruit. Serve immediately.
Recipe courtesy The Good Stuff Cookbook: Burgers, Fries, Shakes, Wedges and More by Spike Mendelsohn With Micheline Mendelsohn
Want to catch up on past Rival Recipe cook-offs? Voting is still open in the Iron Chef Italian Dish and Thanksgiving Showdowns.
More posts from Maria Russo.
Similar Posts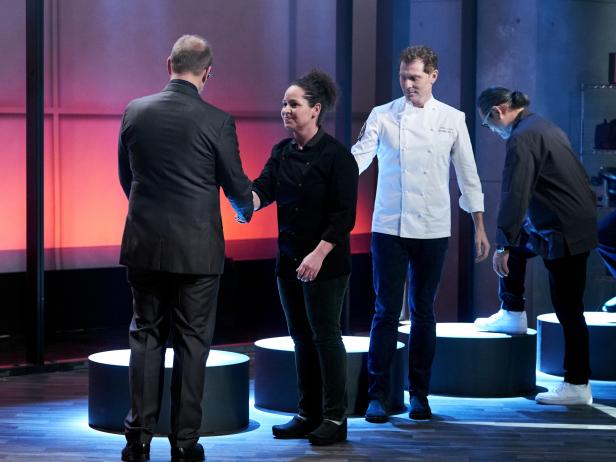 Get the latest details on the all-new series Iron Chef Showdown....