Comfort food was the name of the game on last week's episode of The Next Iron Chef, as the Chairman challenged the rivals to put innovative twists on classic dishes. But instead of focusing on the all-American meatloaf, macaroni and cheese and mashed potatoes, they embraced the flavors of three global favorites: banh mi, tacos and falafel. While the chefs were busy taking these Vietnamese, Mexican and Mediterranean staples, respectively, to the next innovative level, we noticed that one country famous for its tried-and-true comfort food was left off of their international food tour. Home to hearty, cheesy pastas, warm breads, beefy meats and perhaps the most-decadent pastries, Italy could have offered the rivals a fourth and formidable comfort food: the meatball.
That's why this week's Rival Recipes cook-off is picking up where the Chairman's Challenge left off and introducing meatballs to the competition. We're pitting three Redemption rivals against each other and asking the question: Who makes a better ball? Chefs Nate Appleman, Duskie Estes and Elizabeth Falkner are bringing their best saucy bites to the showdown, and it's up to you, Next Iron Chef fans, to pick whose recipe reigns supreme.
Are you all about the beef? Then you may appreciate Chef Appleman's Pepperoni Meatballs from Food Network Magazine, made with four different kinds of beef, plus red wine and creamy ricotta cheese. If you're looking for something out of the ordinary, Chef Estes' Sicilian Lamb Meatballs with pistachio nuts and cherries may be more your style. Chef Falkner's Spaghetti and Meatballs with herbs and cheese from her cookbook, Cooking Off the Clock: Recipes From My Downtime, however, will appeal to traditionalists who just can't enjoy a meatball without a twirl of pasta alongside.
The decision is in your hands, fans. Who do you think outcooked the competition with the best meatball? Vote below, then tune in on Sunday at 9pm/8c to watch a brand-new episode of The Next Iron Chef: Redemption.
See below for detailed recipes and to purchase Chef Falkner's cookbook.
Pepperoni Meatballs
Serves 25 Meatballs
Extra-virgin olive oil, for greasing and drizzling
10 ounces boneless beef short rib, cut into 1/2-inch chunks
10 ounces boneless beef chuck, cut into 1/2-inch chunks
8 ounces beef brisket, cut into 1/2-inch chunks
4 ounces beef fat, cut into 1/2-inch chunks
7 slices white bread, cut into 1/2-inch chunks
6 cloves garlic, chopped
Kosher salt
2 tablespoons Calabrian chili powder
1 1/2 teaspoons Calabrian chili paste
3 1/2 teaspoons fennel seeds
1 teaspoon anise seeds
3 teaspoons dried oregano
1/4 cup dry red wine
3/4 cup fresh ricotta cheese
3 large eggs, lightly beaten
1 28-ounce can whole plum tomatoes, crushed by hand
1 bunch basil, leaves torn
Grated Grana Padano, for topping
Crusty bread, for serving (optional)
Preheat the oven to 400 degrees F. Grease 2 baking sheets with olive oil; set aside. Mix the beef short rib, chuck, brisket and fat in a large bowl. Add the bread, garlic, 1 tablespoon plus 1 teaspoon salt, chili powder, chili paste, fennel and anise seeds and oregano; mix until combined. Grind the meat mixture in a meat grinder with a 1/4-inch grind die into a large bowl. Add the wine, ricotta and eggs and mix by hand until combined. (The mixture should be wet and tacky.)
Form the mixture into 1 1/2-inch meatballs and put on the prepared baking sheets. Bake until the meatballs are brown, 15 to 20 minutes. Remove from the oven and reduce the oven temperature to 300 degrees F.
Transfer the meatballs to a roasting pan. Pour the crushed tomatoes and their juices over the meatballs, cover with foil and bake until the meatballs are tender and have absorbed some of the sauce, 1 hour to 1 hour, 30 minutes. Scatter the basil leaves over the sauce.
Divide the meatballs and sauce among bowls. Top with grana padano and drizzle with olive oil. Serve with bread, if desired.
Recipe courtesy Nate Appleman, Food Network Magazine
Sicilian Lamb Meatballs
1/2 pound ground lamb
1/2 pound ground pork
1 onion, diced small
3 tablespoons pistachios, roughly chopped
2 tablespoons sour cherries, roughly chopped
Zest and juice of 1 lemon
2 garlic cloves, minced
1 tablespoon chopped flat-leaf parsley
1 tablespoon harissa
1/4 teaspoon ground allspice
1/4 teaspoon ground cinnamon
1/4 teaspoon ground coriander
Kosher salt
In a bowl, combine all of the ingredients. Form into balls. Cook to medium, serve with mint chutney and yogurt.
Recipe courtesy Duskie Estes, www.zazurestaurant.com
Spaghetti and Meatballs
Serves 4
Meatballs
2 tablespoons ground crackers or dried unseasoned bread crumbs (Note: Panko and matzo meal work great for meatballs.)
2 tablespoons whole milk
8 ounces ground beef
4 ounces ground pork
1/2 teaspoon dried oregano
2 teaspoons grated pecorino romano
1/2 teaspoon garlic powder
1/2 teaspoon salt, plus more as needed
Freshly ground black pepper
1 large egg
2 cups Chicken Stock*, Beef Stock* or purchased broth
Spaghetti
1 tablespoon salt, plus more for seasoning
1 pound Homemade Pasta* or 12 ounces dried spaghetti
1 1/2 cups Tomato Sauce*
Freshly ground black pepper
1/4 cup grated pecorino romano or Parmigiano-Reggiano cheese, for sprinkling
8 fresh basil leaves, torn, for garnish
For the meatballs, in a small bowl, combine the crackers with the milk and stir together. Set aside for 5 minutes.
In a medium bowl, combine the ground beef, ground pork, oregano, grated pecorino, garlic powder, the 1/2 teaspoon salt, pepper and the egg. Add the cracker-milk mixture and gently knead together by hand quickly while keeping cold. Meaning, don't stand there playing with it for 5 minutes warming it up, because it you will mess it up. It is important when making meatballs or sausage that the fat does not start to warm up (same with butter in a pie dough). If it stays cold, it will make a better emulsification and the fat will keep it nice and juicy. You can chill the meat before you make meatballs if it seems warm or if you are working in a warm environment.
Line a baking sheet or plate with parchment paper. Shape the meat mixture into balls that resemble oversize golf balls, set on the prepared baking sheet or plate and refrigerate for 15 minutes. Add the stock to a medium saucepot and bring to a boil over high heat, then decrease the heat to a simmer. Drop in the meatballs and simmer, covered, for 20 minutes. Remove from heat.
For the spaghetti, bring a large pot filled with water to a boil over high heat and add the 1 tablespoon salt. Drop in the pasta and cook for 4 minutes if using fresh pasta, or 8 minutes if using dried pasta.
In a sauté pan over medium heat, add the sauce and 2 or 3 tablespoons of the pasta cooking water. Bring to a simmer and add the cooked pasta and meatballs. Coat the pasta and the meatballs with the tomato sauce and simmer briefly to heat up. Season with salt and freshly ground black pepper.
To serve, divide among plates or bowls, sprinkle with the cheese and garnish with the torn basil leaves.
*Recipes can be found in Chef Falkner's cookbook, Cooking Off the Clock: Recipes From My Downtime
Recipe courtesy Cooking Off the Clock: Recipes From My Downtime
More posts from Maria Russo.
Similar Posts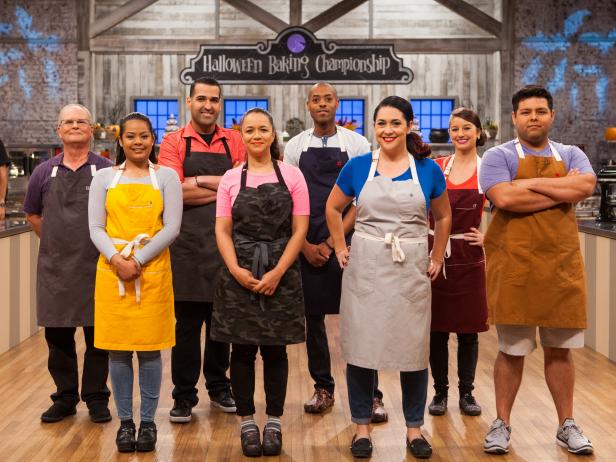 Get the details on the all-new season of Halloween Baking Championship, premiering on Sunday, Sept. 25 at 9|8c....