Carrots may be your go-to zip baggie snack, but there's something to be said for graduating this in-season veggie to your dinner table. As we compile our Thanksgiving wish lists, look no further for this year's best carrot sides.
For a killer side that's as worthy as your prize-winning stuffing, there's no need to completely change the face of this root veggie. Instead, simplicity is key.
Sunny Anderson prepares her Honey Glazed Carrots with just butter, honey and lemon, while Ina Garten's Sauteed Carrots and Food Network Magazine's Roasted Carrots are even simpler.
Claire Robinson's Baby Carrots With Sweet Ginger Butter look to crystallized ginger for a sweet and fresh flavor. For a rustic side that's one of her favorite comfort foods, Alex Guarnaschelli makes her Brown Sugared Carrots with molasses, rosemary and dark brown sugar. For the brightest recipe of all, go for Food Network Magazine's Coriander-Glazed Carrots (pictured above), which come laced with orange and lime juices, cilantro and brown sugar too.
Giada De Laurentiis brings the sweet vibes of carrots together with other fall produce in a picturesque combination of Roasted Potatoes, Carrots, Parsnips and Brussels Sprouts. Food Network Magazine's Glazed Carrots and Turnips recipe comes donned with butter and sugar. Also, check out Food Network Magazine's Carrots With Chickpeas and Pine Nuts, which serves as a stellar combination of unexpected ingredients.
For some main dish pairings, you won't want to miss Horseradish-Crusted Brisket With Carrots or Glazed Salmon With Spiced Carrots.
For dessert? Alton Brown's quintessential Carrot Cake. Yes, we all knew it would come to this.
More carrot recipes from family and friends:
Feed Me Phoebe: Root Vegetable and Black Bean Chili
Napa Farmhouse 1885: Roasted Carrots With Chile and Agave
Haute Apple Pie: Healthy Carrot Cake Muffins
And Love It Too: Vegan Carrot Cake Coconut Macaroons
Virtually Homemade: The Silver Palate's Carrot Orange Soup
From My Corner of Saratoga: Copper Pennies aka Glazed Carrots
The Heritage Cook: Maple Roasted Carrots, Apples and Onions
Made By Michelle: Carrots and Caramelized Onions
Thursday Night Dinner: Braised Carrots
HGTV Gardens: Garden-to-Table: Carrots
FN Dish: Best Carrot Sides for Thanksgiving
More posts from Allison Milam.
Similar Posts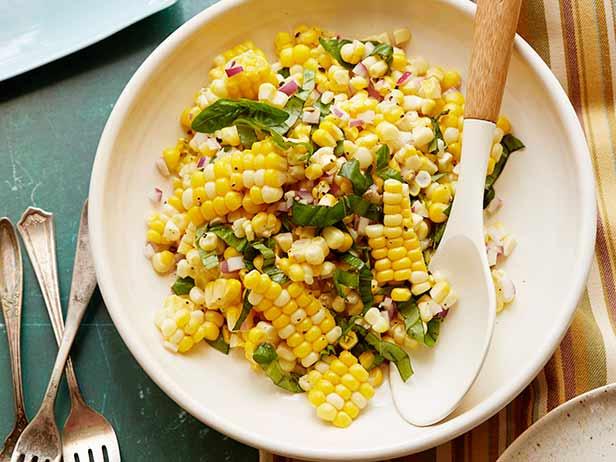 Think beyond the usual presentation of corn with butter and salt....