Cauliflower proves the perfect backdrop to all your favorite fall — or otherwise — flavors. What it lacks in color these snow-white florets make up for in versatility and texture. Do what you will with them: steam or roast, fry or purée. In the end, it's an in-season veggie worth talking about.
This fall, make moves on some of Food Network's best cauliflower recipes.
Like potatoes, cauliflower does well when cheese enters the mix. Try it out with Bobby Flay's creamy Cauliflower-Goat Cheese Gratin, which comes laced with Monterey Jack and grated Parmesan as well. For a subtler sprinkle, make Giada De Laurentiis' Roasted Cauliflower With Parmesan and Pancetta with an decidedly Italian influence.
For bold Middle Eastern sides that would go well with charred steaks or lamb chops, listen up. Claire Robinson's Roasted Cauliflower With Dates and Pine Nuts recipe for Food Network Magazine (pictured above) works up a nice browning on the florets, and Anne Burrell's Spice-Roasted Cauliflower and Jerusalem Artichokes recipe for Food Network Magazine brightens up any plate it hits.
For the calorie cutters among us, Food Network Magazine's Cauliflower With Tomatoes is just the thing. This side breathes flavor with healthy additions like lemon juice, cilantro and loads of spices.
Giada De Laurentiis' Parmesan Broccoli and Cauliflower Salad fuses two tones of twin veggies in a vivid lemon vinaigrette.
For a vegetarian curry dish, Tyler Florence combines fresh ginger, vine-ripe tomatoes and cilantro in his Curried Cauliflower With Chick Peas and Tomatoes. If we're thinking Indian food, Aarti Sequeira's Cauliflower and Potatoes recipe is a ginger-garlic-seasoned side otherwise known as Aloo Gobi.
Better yet, cauliflower can make for an entire meal — if you know how to pair it. Food Network Magazine's Sausage-Cauliflower Spaghetti brings cauliflower into each slinky spoonful of pasta, while Bobby Flay's Wild Mushroom and Cauliflower Lasagna for Food Network Magazine ties the traditional together with a cheesy cauliflower mornay sauce.
In the end, cauliflower isn't as monochromatic as it's cracked up to be, eh?
More cauliflower recipes from family and friends:
Napa Farmhouse 1885: Roasted Cauliflower Soup With Chile and Garlic
Red or Green?: Spicy Roasted Cauliflower and Garlic
Devour: 6 New Ways to Use Cauliflower
Thursday Night Dinner: Quick Cauliflower Curry
Feed Me Phoebe: Roasted Cauliflower and Fennel Salad With Endive and Radicchio
HGTV Gardens: Garden-to-Table: Cauliflower
Taste With the Eyes: Purple Cauliflower Salad
More posts from Allison Milam.
Similar Posts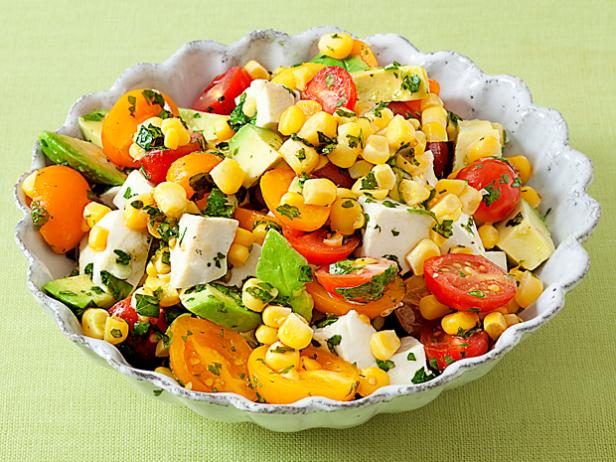 When it's too hot to cook, look no further than these tomato-focused recipes....