Now that we're really pushing into fall, lettuce probably isn't necessarily the most on-your-radar type of seasonal produce. Fall is the time for cozying up to butternut squash soup and just-out-of-the-oven pumpkin bread, is it not? Well, believe it or not, it turns out this is the time to get your lettuce fix since the leafy green is in season.
According to HGTV Gardens, lettuce is one of the best-dressed vegetables at the market. Varieties come in a cornucopia of shades: green, red, purple, yellow, as well as variegated and mottled combinations.
Just because lettuce is on the must-eat list doesn't mean we're talking ice-cold salads. Nope, this week we're all about one thing: lettuce wraps. In this rendering, lettuce is foundational. It packs the same hand-held functionality as a taco, and works as a stellar party appetizer or light lunch.
There are many ways to make your lettuce wraps, whether you're going the veggie or the meaty route. Here's just a taste.
Classic lettuce wraps are often met with an Asian spin. Rachael Ray's Barbecued Chinese Chicken Lettuce Wraps go there by cooking chicken in a wok with hoisin Chinese barbecue sauce. Aaron McCargo, Jr.'s Spicy Szechuan Chicken Lettuce Wraps are crunchy and bright, with a spicy Szechuan sauce to match. Food Network Magazine's Almost-Famous Chicken Lettuce Wraps come with a homemade stir-fry sauce, fried noodles, shiitake mushrooms and crunchy water chestnuts. Green Papaya Salad in Lettuce Wraps take the Thai favorite in a nothing-but-veggie direction, and Ellie Krieger's Lettuce Cups With Tofu and Beef recipe prove ultimately wholesome.
Buffalo Chicken Lettuce Wraps are bursting with spicy salsa and a zesty blue cheese sauce. And keep in mind that Food Network Magazine features some solid pork lettuce wraps too, like Grilled Pork Lettuce Wraps (pictured above) and invigorating Pork Lettuce Wraps With Grapefruit.
Lastly, in terms of seafood, Paula Deen uses iceberg lettuce to swaddle her Lime Shrimp Lettuce Wraps, but opts for butter or romaine lettuce when it comes to her Mahi Mahi Lettuce Wraps.
Regardless of how you bundle up your lettuce wraps, it's about time we usher in a new fall favorite.
Talk to us: What's your favorite way to eat mixed lettuce? Tell us in the comments or join the conversation on Twitter by using the hashtag: #fallfest.
More mixed lettuce recipes from family and friends:
Jeanette's Healthy Living: Quinoa and Black Lentil Salad With Mixed Salad Greens
Cooking With Books: "Chopped" Salads
Haute Apple Pie: Roasted Butternut Squash Salad With Warm Bacon Dressing
Dishin & Dishes: Beet Salad With Garlic Vinaigrette
Thursday Night Dinner: Mixed Lettuce, Caramelized Onion and Goat Cheese Pita Pizza
And Love It Too: Rainbow Salad
Made By Michelle: Bacon, Lettuce and Tomato Sandwiches
Feed Me Phoebe: Hearts of Romaine With Beets, Pistachios and Roasted Garlic Vinaigrette
HGTV Gardens: Garden-to-Table: Mixed Lettuce
Virtually Homemade: Mixed Fall Greens With Dijon Chive Vinaigrette
Devour: Lettuce (Hold the Salad)
Daily*Dishin: Almond Chutney Chicken Lettuce Wraps
Delicious Lean: Chiffonade of Mixed Greens
More posts from Allison Milam.
Similar Posts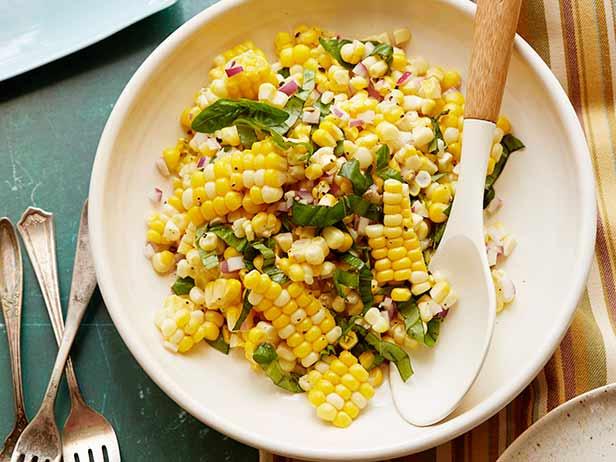 Think beyond the usual presentation of corn with butter and salt....