You've got your go-to pumpkin pie recipe stored away in the family vault and your world-famous pumpkin bread recipe hidden underneath your pillow. Who can blame you? These desserts are as fundamental to fall as apple picking, pumpkin patching or mulled apple cider drinking. We wouldn't dare threaten all that's tried-and-true, but there's something to be said for trying something new with pumpkin this season.
Now that pumpkins are in season, go ahead and skip the can. Instead, grab a few sugar pumpkins, roast, puree and then cook 'em down with loads of spices. Homemade Pumpkin Puree is freezable, so there's no excuse for not having the fresh stuff on hand. According to HGTV Gardens, the longer a pumpkin rests off the vine, the sweeter it will become — so try and cure your pumpkins for two or more weeks before using.
When it comes to savory, pumpkin soup proves a fall mainstay. Rather than opting for a purely pumpkin blend, add an unexpected component with Rachael Ray's Pumpkin Soup With Chili Cran-Apple Relish.
Whipping up that Classic Pumpkin Pie, like this one by Food Network Magazine, is no small matter. Everyone has their own variation and each proves ultimately smooth and spiced. Without forsaking that comforting fall flavor, bring a little edge into your pie baking. Apple Butter Pumpkin Pie, Hazelnut Pumpkin Pie, Amaretto Pumpkin Pie With Almond Praline and Ginger Snap Pumpkin Pie With Ginger Cream all deserve a spot in your oven.
If you're looking for something sliceable, but are over the whole pie thing, try your hand at cake baking. Paula Deen's Pumpkin Cheesecake recipe blends two dessert favorites and her Pumpkin Roll Cake for Food Network Magazine (pictured above) is rich with fall flavors thanks to a little caramel, toffee and dark rum. While you're at it, try this Pumpkin Spice Cake With Chocolate-Pecan Filling straight out of Food Network Magazine that brings on a booming yet familiar dose of spice.
There's something to be said for a good tart. Ina Garten's Pumpkin Banana Mousse Tart unites two of the smoothest pieces of produce together for a velvety dessert, while Claire Robinson's Ginger Pumpkin Tart integrates Swedish ginger cookies.
And if you've never tried a Whoopie Pumpkin Pie (pictured right), you've been missing out. Luckily, that can be fixed with the Neelys' recipe, which sandwiches rich pumpkin cream cheese between soft chocolate cookies.
Deviate from the fall norm by rethinking your quintessential pumpkin favorites. Add an ingredient there and another here — that's all it takes to brighten up all that's fall.
Talk to us: What's your favorite way to eat pumpkins? Tell us in the comments or join the conversation on Twitter by using the hashtag: #fallfest.
More pumpkin recipes from family and friends:
Jeanette's Healthy Living: Gluten-Free Pumpkin Spice Pancakes
Chez Us: Pull Apart Pumpkin-Pecan Bread With Maple Bourbon Frosting
And Love It Too: Vanilla Pumpkin Swirl Cake With Vanilla Palm Sugar Glaze
Haute Apple Pie: Creamy Pumpkin Penne With Italian Sausage
HGTV Gardens: Garden-to-Table: Pumpkins
From My Corner of Saratoga: Chocolate-Pumpkin Cake
Made By Michelle: Pumpkin Scones
Napa Farmhouse 1885: Roasted Pumpkin and Black Bean Stew With Chorizo and Pepitas
Devour: 5 Delicious Ways to Use Pumpkins After Carving
Virtually Homemade: Pumpkin Pancakes With Maple Cream and Candied Vanilla Pecans
The Heritage Cook: Gingery Pumpkin Mousse With Whipped Ginger Cream
Thursday Night Dinner: Chocolate Chip Pumpkin Pie
Feed Me Phoebe: Roasted Pumpkin Wedges With Chili, Lime and Cotija
Cooking With Books: Pumpkin-Bacon Brussels Sprouts
More posts from Allison Milam.
Similar Posts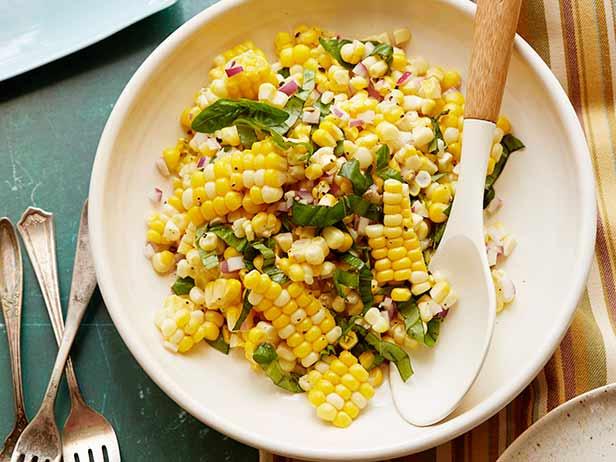 Think beyond the usual presentation of corn with butter and salt....