Though potatoes prove a year-round hit, their starchy cousin gets special attention once fall draws near and the sweaters are pulled on. As a member of the root veggie clan, turnips are a comforting alternative when whipped with butter, roasted in the oven or glazed stovetop.
If you're a meat-and-potatoes kind of person, it's about time you give meat and turnips a chance, too. Consider it the perfect side for a casual weeknight meal or a traditional Sunday dinner. No matter how you prepare this root vegetable, it's sure to comfort you to your core.
As far as a meaty meal goes, any hearty cut will do alongside a heap of turnips. Try Food Network Magazine's Slow-Cooker Ham With Turnips or Herbed Leg of Lamb With Roasted Turnips (pictured above) for a star-crossed combination. Whip up Bobby Flay's Turkey Pot Pie With Sage Crust or Food Network Magazine's Vegetable Shepherd's Pie for one-pot wonders brimming with turnip goodness. In that same way, Michael Symon's Chicken-and-Dumpling Soup recipe for Food Network Magazine ladles bits of turnip, rutabaga, fennel, celery, carrot and, of course, chicken and dumplings into each rejuvenating spoonful.
Need more side inspiration? Sunny Anderson's Braised Red Cabbage and Turnips breathes some color into your meal, while Tyler Florence's Buttered Turnip Puree makes for a silky turnip rendition. While you're at it, combine potatoes and turnips for a side of the Neelys' Mashed Turnips and Sage. And with its toasted top and luxurious interior, this stunning Turnip Gratin With Almonds by Food Network Magazine can create a statement at any fall dinner party.
Turnips also go beautifully with other fresh veggies. Food Network Magazine's Glazed Carrots and Turnips, as well as its Glazed Sugar Snap Peas and Turnips and Roasted Turnips and Mushrooms, all serve as solid proof.
Ah, and be sure to use every last bit of those in-season turnips. Kick up the stove for some Stewed Turnip Greens.
Talk to us: What's your favorite way to eat turnips? Tell us in the comments or join the conversation on Twitter by using the hashtag: #fallfest.
More turnip recipes from family and friends:
Jeanette's Healthy Living: Chinese Turnip Cake
Napa Farmhouse 1885: Mashed Turnips With Caramelized Onions and Balsamic
Cooking With Elise: Balsamic Roasted Turnips and Thyme
Virtually Homemade: Roasted Vegetable Soup With Chimichurri
Feed Me Phoebe: Turnip Hash With Basil Vinaigrette
Thursday Night Dinner: Honey Glazed Roasted Root Vegetables
Made By Michelle: Roasted Turnips and Carrots
HGTV Gardens: Garden-to-Table: Turnips
More posts from Allison Milam.
Similar Posts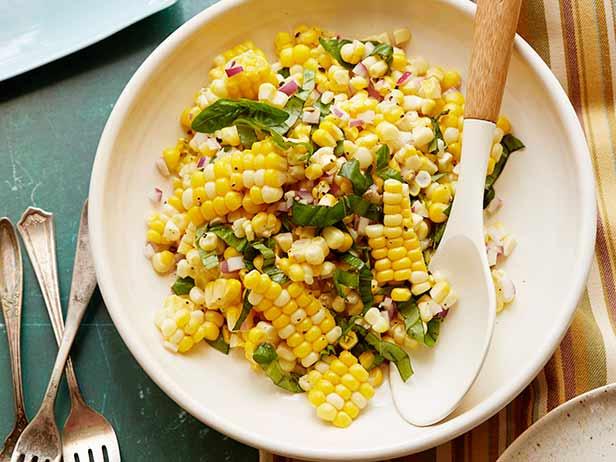 Think beyond the usual presentation of corn with butter and salt....