Get ready for the newest season of The Next Iron Chef by experiencing some of the most drool-worthy moments from seasons past at the Iron Chef's restaurants. From the deliciously spicy dishes at Bobby Flay's Mesa Grill to Michael Symon's modern American food at Lola and the phenomenal Asian-fusion at Morimoto, you're bound to find a secret ingredient to your liking. We've compiled the ultimate Food Network fan restaurant guide with the help of the On the Road app and website.
Mesa Grill
It's hard not to be in a festive mood at Mesa Grill. There are so many margarita flavors and so much color in the food and decor that you can't help but smile. But there's serious cooking going on, too, with Bobby Flay's love and mastery of all things Southwest coming through in every dish.
Morimoto
It's almost ironic that such a fierce competitor as Masaharu Morimoto should open his first American restaurant in the City of Brotherly Love. At Morimoto in Philadelphia, you'll get the pristine sushi the master is known for, as well as a captivating array of dishes showing Western influences.
The Lambs Club
Iron Chef Geoffrey Zakarian opened The Lambs Club in the fall of 2010. Pictures of icons from Humphrey Bogart to Woody Allen line the walls in homage to the Lambs, a prestigious theater group that once occupied the space. Try the Steak Tartare for a lunch Geoffrey calls "very easy to eat."
Restaurant Marc Forgione
Marc Forgione isn't just renowned for his performances in Kitchen Stadium. He's also the youngest American-born chef to receive a Michelin star two years in a row. But if you head to Marc Forgione the restaurant, a cozy spot in New York's Tribeca neighborhood, you'll find that the ingredients are the real hotshots of the place.
Chifa
Down the block from Morimoto is Chifa, one of many Philly restaurants run by Iron Chef Jose Garces. The restaurant is inspired by the unique combination of Latin and Asian cuisine found in Peru. Chifa is the phonetic pronunciation of the Chinese character that represents this shared style of cooking.
Lola
Despite his fame, Iron Chef Michael Symon is a hometown guy and so you'll find his flagship restaurant in Cleveland. The menu gives diners a modern spin on their favorite dishes (smoked pork chop with chiles and cheesy polenta, anyone?), while always showcasing the best of what local purveyors are producing close by.
Kouzzina
Sample Cat Cora's Mediterranean cuisine at the casual family restaurant Kouzzina on Disney's BoardWalk in Orlando, Fla. Try to get a seat near the open kitchen — the chefs yell, "Opa!" whenever flames get a little high, putting on a show.
Babbo
Mario Batali forever changed the Italian dining scene with his legendary spin on Italian food when he opened Babbo Ristorante e Enoteca in Manhattan. His ability to take classic dishes and make them startlingly original is what made him such a fierce competitor in Kitchen Stadium.
More posts from Catherine LeFebvre.
Similar Posts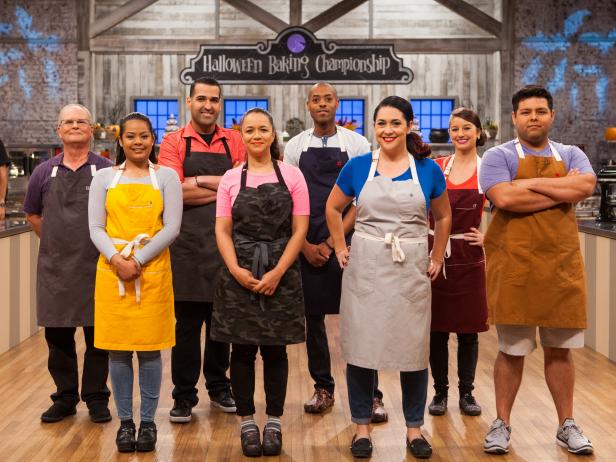 Get the details on the all-new season of Halloween Baking Championship, premiering on Sunday, Sept. 25 at 9|8c....