There's so much to love about bell peppers. They turn a tub of hummus into a well-rounded snack. They char on the grill in no time at all. They can be stuffed to the rim and roasted till supple. Bell peppers manage to breathe life and color into all of our favorites, and we thank them for that.
For a bell pepper with a sweet-as-can-be disposition, look to the ruby-red variety. For a subtle and pleasantly bitter flavor, green is the pepper for you. And for something that falls in between, it's all about the orange and the yellow.
Untouched bell peppers may come down with a cold crunch, but they also make for a comforting fall dish when cooked down until soft and sweet.
Settle into a big bowl of Creamy Red Pepper Soup with a dollop of mascarpone to start, but make sure to have a slice of ultra-crusty bread on hand for dipping benefits.
Now let's talk hearty mains. Food Network Magazine's Skillet Pork and Peppers (pictured above) and Broiled Chicken With Peppers rely on the oven for moist meat and a crispy façade.
And before it gets too cold out, make your way to the grill. Try Food Network Magazine's Tri-Tip Steak With Mushrooms and Peppers or Rib-Eye Steak With Herb Butter and Charred Peppers. Both count on peppers for a low-carb side to your favorite cut.
A heap of scalloped potatoes is the pinnacle of hearty side dishes, especially when done up with bright slices of sweet pepper as you can see in Food Network Magazine's Scalloped Potatoes With Tomatoes and Bell Peppers. Ree Drummond's Baked Creamed Corn With Red Bell Peppers and Jalapenos are in a similar league, with dices of red scattering the top.
We couldn't talk peppers this fall without bringing up stuffed peppers. Giada De Laurentiis uses mini peppers, ricotta and pancetta for her Mediterranean-style Stuffed Baby Peppers, while Food Network Magazine's Cajun Stuffed Peppers are brimming with a brown rice-quinoa mix and andouille sausage.
And the pepper renditions don't end there. For pasta night, fix up Food Network Magazine's Baked Rigatoni With Meatballs and Peppers. For pizza night, kick up the grill for Bobby Flay's Grilled Pizza With Hot Sausage, Grilled Peppers and Onions. And for Mexican night, make Sunny Anderson's Steak Fajitas With Chimichurri and Drunken Peppers.
With peppers in season, your dishes can be as bright as the leaves on the trees.
More posts from Allison Milam.
Similar Posts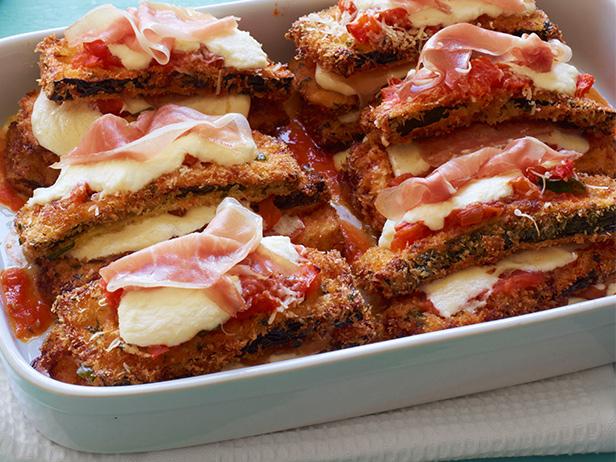 If you too are facing an overflow of zucchini at your house, look no further than these recipes to put the veggies to good use....