When Bobby Flay and Giada De Laurentiis took the stage at New York City's Times Center, it didn't take long for these longtime friends and colleagues to start passing playful, well-meaning jabs to one another. The two joined Julia Moskin of The New York Times as part of a series of TimesTalks during the New York City Wine & Food Festival, and what followed was a lighthearted conversation about food, Food Network Star and their early days on the network. Never one to miss a beat, Bobby jokingly told the audience, "As you know, Giada invented Italian food," while Food Network's resident Italian superstar took the dig in stride before returning the favor to Bobby. She told the story of how he claimed on national television to have discovered a secret pasta-making strategy, when in fact it was she who deserved the credit.
In no time, their chat turned to the most-recent season of Food Network Star, in which Justin Warner, mentor Alton Brown's Rebel With a Culinary Cause, scored the most votes from at-home viewers and was crowned Food Network's newest star. Bobby and Giada, also mentors to teams of Star contenders, looked back on the season and agreed that while other contestants may have turned out better food, Justin "is a talented entertainer" and "has a real chance to make some noise" now that he has claimed the top prize.
Bobby and Giada were quick to admit that if they had competed on Food Network Star as rookie television cooks, neither would have been successful in that cutthroat competition. "I wouldn't have won Food Network Star," Bobby told Julia. Giada readily agreed, explaining, "Nobody's good in the beginning."
Giada noted that she "was a very shy young lady," especially when she began taping Everyday Italian, but she thanks Bob Tuschman, general manager/senior vice president of Food Network, for believing in her from day one. "He said that, yes, I was shy, but he saw the star behind that when I was doing my demo."
For Bobby, the memories of his first Food Network show, Grillin' & Chillin', are a bit difficult to relive. "It was such bad television that it was good television," he told the audience of that first season. "It was the first train wreck reality show." He jokingly said that he pleads to Food Network, "Who can I pay not to bring back Grillin' & Chillin'?"
More posts from Maria Russo.
Similar Posts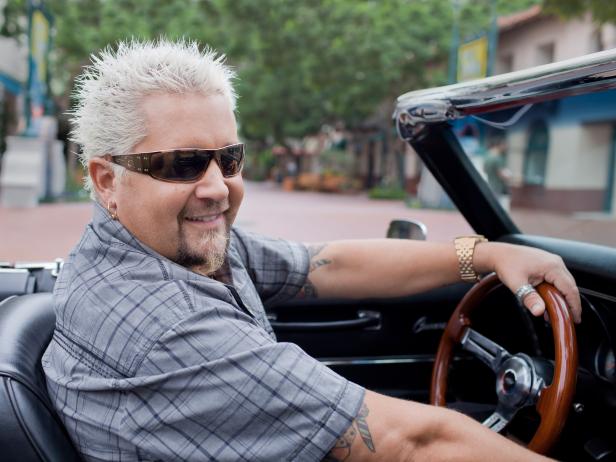 Get the first look at Guy Fieri's upcoming series, Guy's Family Road Trip....