We're teaming up with food and garden bloggers and our friends at HGTV Gardens to host Summer Fest 2012, a season-long garden party. In the past weeks, we've feature favorite garden-to-table recipes and tips to help you enjoy the bounty, whether you're harvesting your own goodies or buying them fresh from the market. For the last installment of Summer Fest, we're exploring potatoes.
Taken straight from the sack, potatoes are pretty bland. But with just a little love — and butter — they become a force to be reckoned with. And let's face it: They're as versatile as they are comforting. Yukon gold or russet? Baked or smashed? Now that the most satisfying crop of all is in season, there's no telling what could end up on your dinner table tonight.
If you grow your own potatoes, did you know they can keep for upwards of six months or more? Fresh potatoes can be eaten immediately and are prized for their tender, new skins. But potatoes can also be cured in a dry, room temperature space to allow skins to slightly desiccate. Keep them in the dark and they can store for upwards of six months. For more great tips like this one, be sure to check out HGTV Gardens.
Before we get ahead of ourselves, there's something to be said for a quality baked potato. You know, the kind that's sliced down the middle, perfectly moist on the inside and inundated with toppings. Food Network Magazine's Twice Baked Potatoes pack in leeks and chive-and-onion cream cheese, while the Neelys' Twice Smashed Baked Potatoes recipe goes the broccoli and double-cheese route.
Let's move on to mashed. If you like yours creamy and full-flavored, serve up a dollop of Alton Brown's Creamy Garlic Mashed Potatoes. Or do as the Barefoot Contessa does and add sour cream to your next batch. If you love the skin, try Rachael Ray's Mashed Potato Skins recipe, which comes loaded with cheddar, crispy turkey bacon and fresh chives.
Needless to say, the scalloped potato is the most decadent — and worthy — preparation around. Laden with cheese and cream around each crispy sliver, Tyler Florence's Scalloped Potato Gratin recipe is classic and comforting. Food Network Magazine's unconventional Four-Cheese Scalloped Potatoes (pictured above), on the other hand, bring mozzarella, Asiago, raclette and Parmesan together. Do you prefer single servings? Then Food Network Magazine's Mini Scalloped Potatoes are just the thing.
If you're warding off all things buttery, think about roasting. Giada De Laurentiis uses extra-virgin olive oil and herbes de Provence for her Roasted Baby Potatoes. And if it's a spud snack you're looking for, take a crack at frying with Ellie Krieger's slimmed-down Cracked Pepper Potato Chips With Onion Dip or Ina Garten's Baked Potato Wedges.
Barbecue season may be just about over, but there's still time to squeeze in a good potato salad. Alton Brown's Cold-Fashioned Potato Salad uses red potatoes, while Aaron McCargo, Jr.'s Classic Potato Salad goes for Yukon gold.
And finally, now that we're moving into fall, who's up for some sweet potatoes? Go for Roasted Sweet Potatoes With Honey and Cinnamon, Sweet Potato Fries or Chipotle Smashed Sweet Potatoes.
Ready for dessert? Trust that Paula Deen's Old Fashioned Sweet Potato Pie will do the trick.
More potato recipes from family and friends:
Jeanette's Healthy Living: Crock-Pot Stuffed Baked Sweet Potatoes
Feed Me Phoebe: Roasted Potato and Green Bean Salad With Almond-Chive Pesto
Dishin & Dishes: Roasted Potato Salad
Big Girls Small Kitchen: Shakin' Hash Browns
Made By Michelle: Sweet Potato Macaroni and Cheese
Napa Farmhouse 1885: Red Chile Breakfast Potatoes
Virtually Homemade: Potato Onion Bread With Poppy Seeds
Sweet Life Bake: Tacos de Papa Potato (Potato Tacos)
From My Corner of Saratoga: Easy Crispy Fried Potatoes
Thursday Night Dinner: Mashed Sweet Potatoes and Coconut Oil
Cooking With Books: Nutty Sweet Potatoes
More posts from Allison Milam.
Similar Posts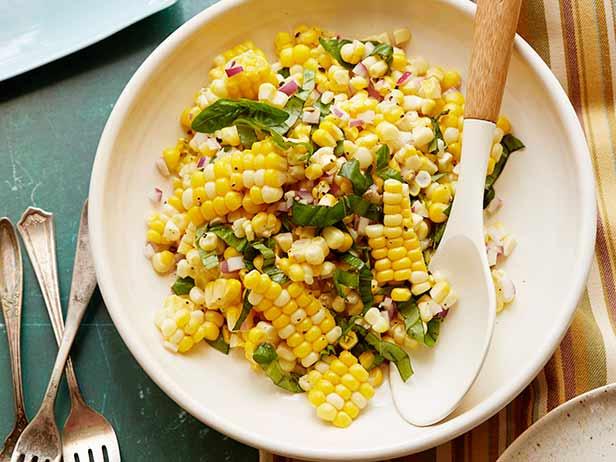 Think beyond the usual presentation of corn with butter and salt....