We're teaming up with food and garden bloggers and our friends at HGTV Gardens to host Summer Fest 2012, a season-long garden party. In coming weeks, we'll feature favorite garden-to-table recipes and tips to help you enjoy the bounty, whether you're harvesting your own goodies or buying them fresh from the market. Today we're exploring apples.
If you live in the Northeast, the introduction of apple season means more than a wide-eyed experience in the produce section. Instead, it means a trip to the farm for some apple picking. Donning your favorite comfy outfit and making your way into the country, this trip should be one of the first things you do when the air becomes crisp and the leaves turn golden. Don't be afraid to pick apples by the crateful this year — Food Network has plenty of ideas to keep you busy.
For breakfast, drizzle maple syrup over Ellie Krieger's Whole Wheat Apple Pancakes, blend Fuji and Golden Delicious apples together for Alton Brown's 10 Minute Apple Sauce and eat a warm, hearty Zucchini and Apple Bread fresh out of the oven.
With so many apples, try incorporating a few into lunch and dinner, too. Tyler Florence's classic Roast Loin of Pork With Baked Apples embodies everything that's good and hearty about the fall, while this recipe for Apple and Brie Quesadillas brings an unconventional edge to a Tex-Mex mainstay. As for sides, look to simple Baked Apples and an Israeli Couscous With Apples, Cranberries and Herbs.
Of course, dessert is where apple concoctions really get serious. With its thin slices of tart Granny Smiths and layers of homemade pastry dough, Ina Garten's French Apple Tart (pictured above) proves truly irresistible, while Anne Burrell's Apple Tart Tatin and this Pear and Apple Cobbler are classically honeyed and spiced.
With this Spiked Apple Cider Cocktail recipe in your repertoire, you can even integrate this fall fruit into drinks.
More apple recipes from family and friends:
Jeanette's Healthy Living: Gluten-Free Jewish Apple Cake
Virtually Homemade: Apple Pie Muffin
Chez Us: Baked Apples With Creme Anglaise
Daily*Dishin: Easier-than-Pie Creamy Apple Bake
Made by Michelle: Pear Apple Crisp
Napa Farmhouse 1885: Apple, Fennel and Cheddar Cheese Panini
From My Corner of Saratoga: Spiced Apple Dutch Baby
Thursday Night Dinner: Apple Bread Pudding
Devour: 7 Apple Desserts Beyond Pie
Healthy Eats: Marrying the Apple With New Flavors
More posts from Allison Milam.
Similar Posts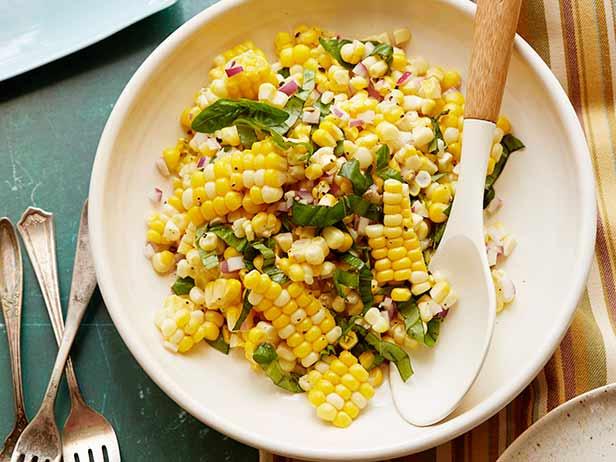 Think beyond the usual presentation of corn with butter and salt....