Halloween Wars returns for a second season on Sunday, October 7 at 9pm ET/PT with five new teams, each consisting of a pumpkin-carving artist, a cake decorator and a candy craftsman, battling it out over the course of four episodes to create the ultimate Halloween-themed display that will feature heart-pounding creations. One team will be eliminated each week by the judging panel, made up of renowned cake decorator Shinmin Li and award-winning special effects, makeup artist and horror movie actor/director Tom Savini. The last team standing will wind the grand prize of $50,000. Hosted by Justin Willman (Cupcake Wars), each episode will also have a rotating guest judge that is no stranger to scary situations: Shawnee Smith (Saw, Anger Management), Rutina Wesley (True Blood), Chaske Spencer (the Twilight saga) and Sara Canning (The Vampire Diaries).
Premiering Sunday, October 7 at 9pm ET/PT
Evil Clowns: In the first of four battles, five teams, each made up of a pumpkin-carving expert, cake artist and candy craftsman, must combine their talents to create the most terrifying clown imaginable. At the end of the battle, one team will be eliminated.
Special guest judge: Shawnee Smith
Premiering Sunday, October 14 at 9pm ET/PT
Battle of the Vampire Killer: The four remaining teams must capture an epic battle in which a vampire killer slays his or her prey. At the end of the battle, one team will be eliminated.
Special guest judge: Rutina Wesley
Premiering Sunday, October 21 at 9pm ET/PT
Science Gone Wrong: Three remaining teams must capture the terrifying moment when a mad scientist's creation goes horribly wrong, with one team being eliminated at the end.
Special guest judge: Chaske Spencer
Premiering Sunday, October 28 at 9pm ET/PT
Zombie Wedding: In the finale, the remaining two teams must evoke the scene of a romantic yet horrific zombie wedding. At stake is the Halloween Wars championship and a $50,000 grand prize.
Special guest judge: Sara Canning
It's not too early to start thinking about Halloween: Browse through all-new spooky snacks and scary treats then vote for Sandra's most famous Halloween costumes.
More posts from FN Dish Editor.
Similar Posts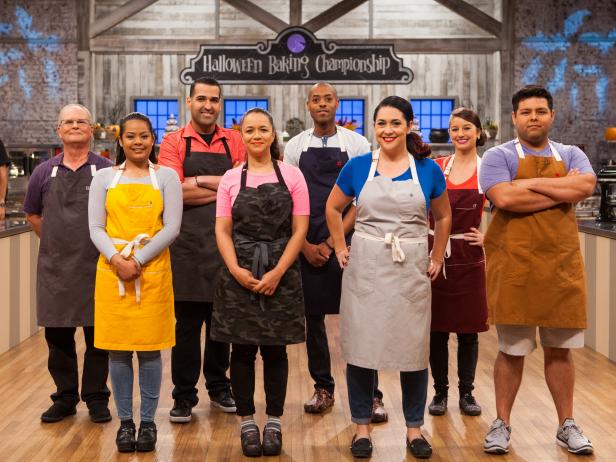 Get the details on the all-new season of Halloween Baking Championship, premiering on Sunday, Sept. 25 at 9|8c....