While some will be mourning the loss of summer Fridays and lamenting the return of early wake-up times to get the kids to school, so many others are rejoicing over the start of football season — afternoons spent on the sofas with friends and family over some of sports' best rivalries and always hearty comfort foods. If you're headed to the stadium, check out Food Network's all-new lineup straight from the chefs at Food Network Kitchens.
Seven NFL stadiums are serving up delicious offerings like sloppy joes, hot hogs, brisket sandwiches and mac and cheese. The signature sloppy joes are a drool-worthy combination of ground beef and slab bacon chunks with slow-cooked tomatoes topped with shredded pepper jack cheese and fried onions. Want potato chips on top of that, too? There are more than 10 toppings available for the sloppy joe sandwich so you can build your own. The hot dogs are topped with baked beans, mustard and corn chips. Don't forget to snag a locally inspired version in each stadium.
Locally inspired menus:
Buffalo Bills
The Buffalo Sloppy Joe is topped with fresh-grated horseradish on a weck roll.
Carolina Panthers
This hot dog is griddled on a potato roll with pimento cheese and green tomato relish.
Chicago Bears
The Chicago Sloppy Joe is topped with giardiniera and provolone cheese.
Cleveland Browns
The classic sloppy joe is topped with crunchy coleslaw.
St. Louis Rams
This sloppy joe is topped with Provel cheese (a combo of cheddar, Swiss and provolone cheeses) and smoky onion relish.
New York Jets and Giants
With two teams in one stadium, you need more food!
Start with the jumbo hot dog topped with thin-sliced pastrami, sauerkraut and Russian dressing. Then take a trip to Little Italy with a sloppy joe topped with fresh mozzarella, roasted red peppers and oregano. Finish by splitting a porter-braised beef brisket sandwich topped with sliced pepperoncini and smoked mozzarella on a pretzel roll.
Green Bay Packers
If you're lucky enough to grab a premium in-suite ticket, then you're in for a treat. Try a little bit of everything: Buffalo Chicken Macaroni and Cheese, Irish Winter Salad, Short Rib and Biscuit Cobbler, Bacon Sloppy Joes and an assortment of savory cupcakes like the Corn Dog Cupcake.
Don't forget to grab a side of Buffalo mac and cheese at these stadiums, too: Buffalo, Carolina, Chicago, Cleveland, New York/New Jersey and St. Louis.
More posts from Sarah De Heer.
Similar Posts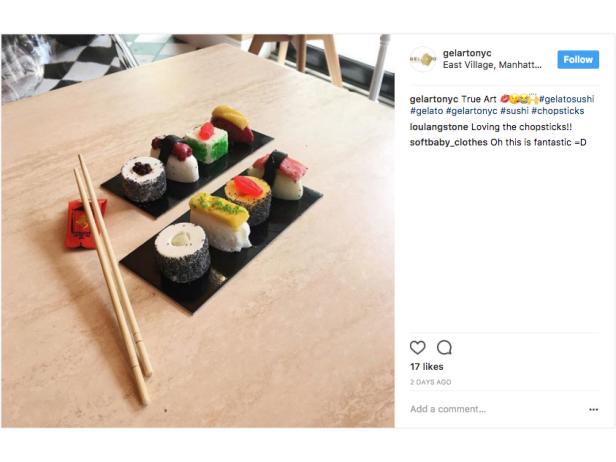 Nothing says summer whimsy like gelato in the shape of pieces of nigiri. ...