We're teaming up with food and garden bloggers and our friends at HGTV Gardens to host Summer Fest 2012, a season-long garden party. In coming weeks, we'll feature favorite garden-to-table recipes and tips to help you enjoy the bounty, whether you're harvesting your own goodies or buying them fresh from the market. Today we're exploring beets.
Now that we've rolled fresh into September, the in-season stud of your next grocery loot is, inarguably, the beet. The root veggie may almost exclusively come canned, but it will arrive in no such packaging this time around. We mean it — spiky can openers and shiny cylinders are banned from your shopping bag from now through October. We're talking fresh ones — and only fresh ones.
If you plan on growing your own beets, be sure to check out HGTV Gardens for great tips like getting an annual soil test to determine if you're missing any nutrients or micronutrients. Beets are sensitive and grow irregularly in the soil if you have a boron deficiency.
But what does it mean for a beet to be fresh? To start, the colors can range from the quintessential deep magenta to vibrant gold, white and everything in between. Not only that, but going can-free ensures that BPA and other chemicals don't weasel their way into your sweet, pristine beets. In the end, the biggest perk is pretty clear: Everything is simply better fresh.
There are a few ways to keep your fresh-as-can-be beets gleaming like jewels. For a more tender disposition, look to smaller beets. For a beet that will hang onto all of its valuable nutrients for dear life and resist bleeding its color, go for roots that lack blemishes or bruises. For a beet with that unmistakable hue, try leaving the skins on while boiling. As for the greens that tag along — which mingle with Swiss chard in the veggie universe — make sure that they're fresh and never, ever limp. Oh, and if you don't want to look like you just soaked your hands in a vat of red Gatorade, simply wear gloves (and cover all pretty surfaces).
Not sure how to prepare your beets? Grab a jar and make way for Alton Brown's Pickled Beets. Fry up some Beet Chips for a deviation from the classic potato. Or go the simplistic route with some Boiled Beets. As far as roasting goes, look to Food Network Magazine's Salt-Roasted Beet Carpaccio (pictured above) or Slow Roasted Beet Salad With Blue Cheese. If you're hoping to experience a new kind of beet, this Golden Beet Carpaccio Salad brings the sunny beets together with a homemade chile oil. Don't forget that you can even eat them raw, especially when you use this Raw Beet Salad for guidance.
Another benefit of going fresh? You get an element of this veggie that has no home in the can: the greens. Beet comes from the same family as chard, quinoa and spinach, so the greens are ultra-nutritious. Go for Alton Brown's hearty Beet Green Gratin, or try Food Network Magazine's Spaghetti With Beet Greens.
More beet recipes from family and friends:
Jeanette's Healthy Living: Roasted Beet and Apple Walnut Salad With Honey Yogurt Dressing
What's Gaby Cooking: Beet, Corn and Quinoa Salad
Chez Us: Pickled Beets
From My Corner of Saratoga: Roasted Beet and Goat Cheese Napoleon
Feed Me Phoebe: Spaghetti With Beet Greens and Blistered Tomatoes
Virtually Homemade: Orange Roasted Chicken With Beets and Green Beans
Napa Farmhouse 1885: Roasted Beet and Avocado Salad With Meyer Lemon Marmalade Vinaigrette
Thursday Night Dinner: Beet, Carrot and Ginger Soup
HGTV Gardens: Garden-to-Table: Beets
Cooking With Books: Roasted Beets, Carrots and Goat Cheese Tartine
More posts from Allison Milam.
Similar Posts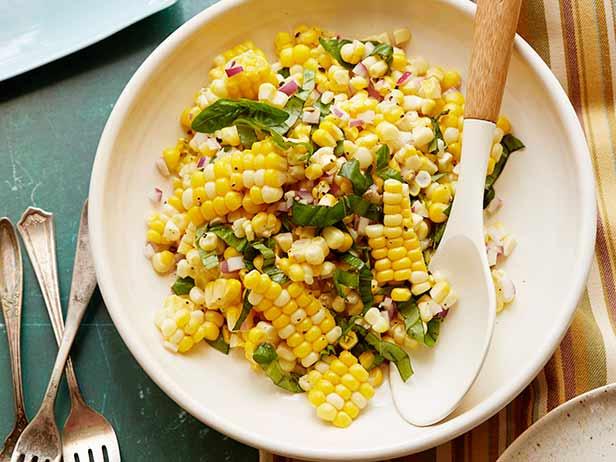 Think beyond the usual presentation of corn with butter and salt....